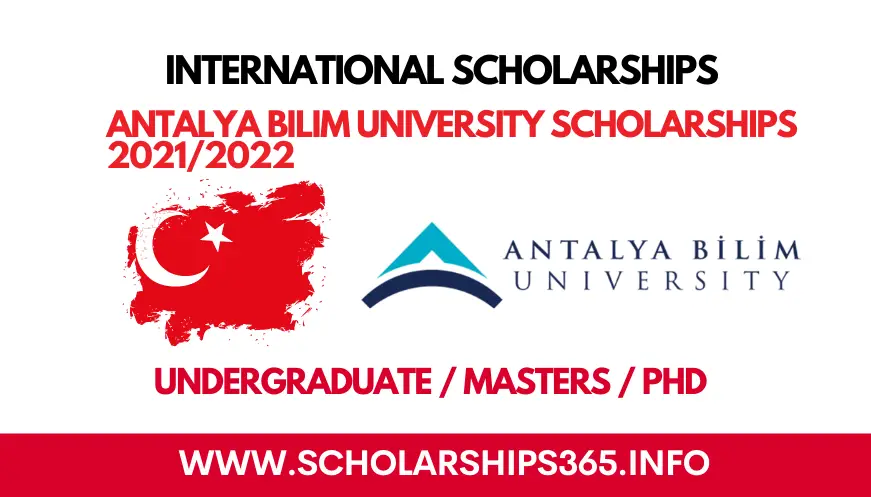 Antalya Bilim University, Turkey Scholarships 2021/2022 is open for International Students. Antalya Bilim University International Scholarships is available to pursue different Undergraduate to Graduate degree programs.  There are multiple types of Antalya Bilim University Scholarships Programs for worldwide students. It's an excellent opportunity for worldwide students to Study in Turkey.
Have you applied for 1000+ Free Online Courses with Free Certificates - UK University
About Antalya Bilim University:
Antalya Bilim University (ABU) is one of the top-rated world universities in Turkey. ABU Campus is home to youth from all over the world. ABU is a diverse multicultural university. Thousands of local and international students are studying at ABU, due to its slogan shaping your future and a new life.
Have you apply for Trent University Scholarships in Canada for International Students 2021/22
Antalya Bilim University is offering almost all the academic programs including Sciences, Engineering, Law, Humanities, Arts, Tourism, Business Administrations, and Medical Fields are available for Undergraduate, Masters, and Ph.D. Studies.
In ABU, Courses are taught by highly qualified professors from world top universities. The students graduate from ABU as world citizens with a clear international vision. ABU campus offers a great variety of social and academic opportunities to all students throughout their education.
Have you apply for the UK Top Scholarships in 2022 for International Students - HERE
About Antalya Bilim University Scholarships:
Every year, Antalya Bilim University, Turkey offers 4 different types of scholarships for International Students. These International Scholarship opportunities for undergraduate and graduate students for different Undergraduate, Master's, and Ph.D. degree programs. Bilkent University is aimed to support outstanding international students for a dream of higher studies in Turkey. There are the following Turkey Scholarships offered by Antalya Bilim University:
 Achievement Scholarship

 Sports Scholarship

 Disability Scholarship

 Extra Scholarship Opportunity
Besides this, The Turkish Bilkent University Also Announced, ICYF Young Volunteers Camp 2021 in Turkey | Fully Funded | HERE
---
Host Country: Study in Turkey
---
Host University: Antalya Bilim University, Turkey
---
Scholarships Offered:  University Funded
---
Scholarships Coverage: Funded
---
No of Scholarships: Information not available.
---
Degree Level: Undergraduate/Bachelors, & Masters, Ph.D. Degree Programs in multiple Fields.
---
---
😇 So You Will Never Miss Any Opportunity for your excellency. Then hurry up to join, follow and like us on different Social Networks. 😇
---
What are the benefits of Bilim University Scholarships:
Wants to Free Study in Turkey? There are currently 4 different types of International Scholarships are offered by Bilim University for Scholarships for Undergraduate to Postgraduate Studies in all fields. The funding support is given below:
1. Achievement Scholarship
 These scholarships are offered to those international students who are enrolled in university without any scholarship but have a GPA of 3.30 and above (out of 4.00). Financial support will be decided by the University.
2. Sports Scholarship
Sports scholarships by Antalya Bilim University are offered to those students who attend different sports activities on behalf of Antalya Bilim University. The value of scholarship funds is review by the Scholarship and Financial Aid Commission.
3. Disability Scholarship
There are tuition fee discount scholarships are available for disabled students. The disability scholarship value is from 20% to 100% depending on eligibility criteria. The duration of the disability scholarships is about 5 (five) years including the preparatory class.
4. Extra Scholarship Opportunity
The first 10 applicants to ABU will receive a 25% extra discount.

International students with %70 or more success with their high school scores may be eligible for the scholarship.

Scores for National and International exams can be considered to obtain a greater scholarship.

The first student registering from any new country currently not represented in our University will receive a 75% scholarship.
Eligibility Criteria for Antalya Bilim University Scholarship:
Candidates must fulfill the following criteria to avail of this Antalya Bilim University International Scholarship for their study.
Citizens of all countries except Turkish Citizens.

Applicants with a high school degree are eligible to apply for Undergraduate Degree programs.

Applicants with Undergraduate Degree are eligible to apply for Masters / MS / MPhil

Students want to apply for Ph.D. Degree program must hold Undergraduate and Masters degree from reputed university of the world.

Every country students have different eligibility criteria, For more information please visit - HERE
---
Application Deadline for Antalya Bilim University 2021:
Currently International Scholarships application at Antalya Bilim University is open now and deadline is not mentioned, so you can apply now.
---
How to Apply for Antalya Bilim University Scholarship:
Students have to apply directly to University and fill the Application form the following procedure given below:
First Register for Online Admission Portal:

Undergraduate Applications

OR First Register for Online Admission Portal:

Graduate Applications

Fill out the application form online, upload, and submit all required documents.

For Official Announcement -

OFFICIAL ADVERTISEMENT HERE
---
,Fully Funded bachelors Scholarships 2019-2020-2021-2022-2023-2024, Fully Funded masters Scholarships 2019-2020-2021-2022-2023-2024, Fully Funded masters Scholarships School 2019-2020-2021-2022-2023-2024, Fully Funded phd Scholarships School 2019-2020-2021-2022-2023-2024, Opportunities Corners, Scholarships Corners, scholarships for college - Austrian government scholarships 2020-2021, CGS CSC STUDY CHINA, FORIGN STUDENTS , TOP UNIVERSITY, HIT, HARIB, TSINGUHA, CHINA, scholarships for college students 2019-2020-2021-2022-2023-2024