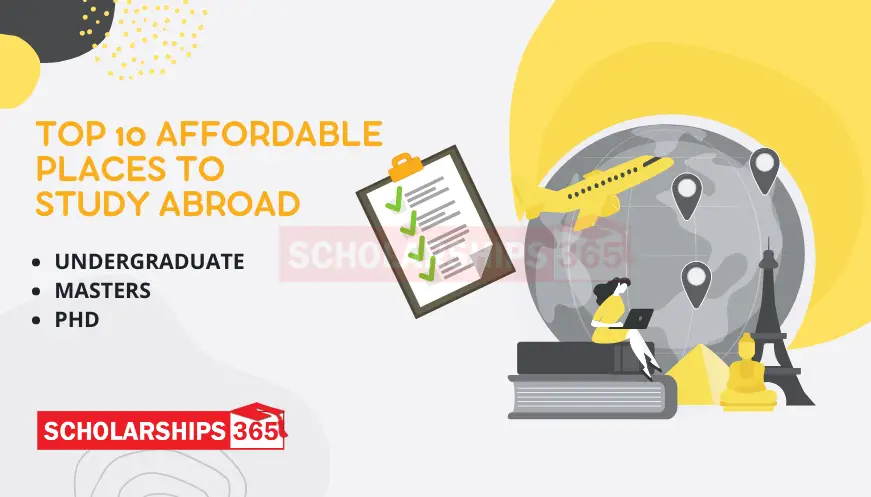 Want to go to Study Abroad? in the world's top affordable / cheap educational countries? Yes, there are many affordable countries in the world where you can easily afford your study abroad expenses without any huge financial burden. Finding the cheapest destinations to study abroad might therefore help to relieve financial stress. Though it might be a challenging search, we've found several places that are both reasonable and ideal for you while you concentrate on your studies abroad. Besides this, there are thousands of Scholarships for international students during their study abroad to manage their financial matters. This article will explain the 10 most cheap / affordable countries in the world where you can fulfill your dreams without any major financial burden.
You can also read about Top 10 Study Abroad Scholarships - HERE
10 of The Most Affordable Countries To Study Abroad
If you have a dream of Study Abroad, but due to the huge expenses of International universities tuition fees, you are not able to fulfill your dream, there is good news we are sharing the list of top 10 cheap countries in the world where you can easily afford your educational expenses.
It is feasible to study abroad on a budget, believe it or not! With careful planning and financial savvy, studying abroad can not only be more inexpensive than you ever imagined, but it can also be less expensive than taking classes at home for a semester or year.
Swapping out your university's overpriced tuition and excessive college town living fees for a low-cost study abroad program might save you thousands of dollars. Saving ahead of time to cover a few inevitable expenses, like flights, will also help you achieve your foreign ambition. Some of the greatest destinations to study abroad also have inexpensive, if not nonexistent, tuition prices.
Going abroad to study is a difficult decision to make because there are several aspects to consider. The cost of student housing and living expenses are one of the most important aspects to consider. If you are a first-year student studying abroad with no prior experience, there are several expenditures that you may not have anticipated. There are several expenses to consider, ranging from lodging to education fees, and transportation charges to recreational activities. So, we are helping you to find the cheapest educational countries to study abroad might therefore help to relieve your financial stress.
#1

Study in Norway
Norway is one of the most beautiful and cheapest educational country in the europe for study. Despite the fact that all of the Nordic countries are fairly priced study destinations, Norway is our top pick since, with the exception of a few specialized programs, public universities in Norway are free to all students from inside and outside the EU.
Norway, like the other Nordic nations in Europe, is known for its high quality of life and breathtaking natural beauty. Another advantage of studying in Norway is the vast number of native English speakers and the quantity of English taught programs at all levels of study. Norway, like the other Nordic countries, has a high cost of living; to live comfortably, you'll need around NOK 139,680. There are also International Scholarships in Norway, for which you can apply to cover your educational expenses during the Study Abroad.
You can also read about  Scholarships in Norway without IELTS - HERE
---
#2 Study in Taiwan
If you're looking to study in Asia, Taiwan is another affordable option in asian top universities. For example, tuition rates for undergraduates at National Taiwan University, which is ranked 72nd in the QS World University Rankings 2019, start at TW$100,920 (US$3,300) per year for liberal arts programs and go up to TW$124,200 (US$4,050).
Taiwan has more than 120 English taught courses at over 40 universities, and it is also a popular destination for Mandarin learners. Taiwan also provides a high quality of life at a cheap cost of living; annual housing costs as little as TW$88,000 (US$2,900).
You can also read about  Scholarships in Aisa 2022-2023 - HERE
---
#3 Study in Germany
Study in Germany is the dream of every international students due to one of top european countries. Germany, dubbed "the land of ideas," is gaining in popularity among foreign students, and it's easy to understand why: it has prestigious colleges, affordable expenses, and a good quality of life.
The good news is that, the Education is free in Germany in public sector college and universities (but you need to cover the Germany Student Visa as well as flight tickets). All public universities, with the exception of those in Baden Wurttemberg, do not collect tuition fees at the undergraduate and PhD levels. Master's students who did not complete their undergraduate degree in Germany should expect to spend up to €20,000 (US$23,450) each year, although you may be eligible for a multiple scholarships in Germany. You'll need at least €10,200 (US$11,950) a year to cover living expenses, but you may need more depending on your lifestyle, region, and spending habits. There are also a variety of English-taught courses available, especially at the graduate level.
You can also read about  Scholarships in Germany 2022-2023 - HERE
😇 So You Will Never Miss Any Opportunity for your excellency. Then hurry up to join, follow and like us on different Social Networks. 😇
---
#4 Study in France
France is also one of the cheapest countries for education public colleges and universities for domestic and international students. Domestic and international students pay the same tuition costs in France, which are set at €170 (US$200) a year for bachelor's  programs. €243 (US$285) for most master's programs, and €380 (US$445) for doctoral programs in 2020/21.
Fees at the extremely selective Grands Ecoles and grands establishments, which determine their own fees, are significantly higher. The capital, Paris, will have the greatest living costs, but you may find it worthwhile - after all, Paris has been crowned the world's number one student city four times in a row (and currently stands at fifth). If you don't speak French well, you can study in English in France, with the bulk of English-taught programs available at the postgraduate level.
You can also read about Scholarships in France 2022-2023 - HERE
---
#5 Study in Mexico
Mexico is one of Latin America's most-visited countries, with a diverse culture to discover. It also has a lot to offer foreign students. Tuition rates vary, with private colleges costing more, however for international undergraduate students in Mexico City, which was rated one of the world's top 100 cities for students, the average annual tuition is roughly US$6,300. Living expenditures are also quite inexpensive in Mexico, with a normal budget in the capital amounting to roughly US$9,250, or US$6,450 elsewhere. Despite the fact that Spanish is the primary language of teaching, Mexican institutions are increasingly providing English-taught courses in order to attract international students.
---
#6 Study in India
Returning to Asia for the second entry on our list of the cheapest countries to study abroad, India is an excellent choice for those seeking affordability as well as cultural variety. While Hindi is the most widely spoken of the country's 100 or so languages, English is frequently used in Indian colleges, particularly at the postgraduate level. The cost of living is extremely low; a one-way trip on public transportation can cost as little as 29 cents US. Tuition prices vary by study level and university, but should not exceed US$7,880 per year, and you should be able to live comfortably on as low as US$4,600 per year.
---
#7 Study in Argentina
Argentina, South America's second-largest country, has spectacular natural beauty and a diversified terrain that makes it excellent for students interested in outdoor adventure and discovery. Argentina is also recognized for its fun-loving culture and strong national identity and is regarded as one of the safest nations in the area.
At a state-funded university, you may usually study for free, whereas private universities charge roughly US$5,100 per year or more. For living costs, you'll need roughly $5,000, with rent as low as US$350 per month.
---
#8 Study in Poland
Poland is another great country to study abroad on a budget since it provides a high-quality education as well as a wealth of culture and history to discover. If you speak Polish and complete the same admission examinations as Polish students and attend your course in Polish, you can study for free.
There are, however, several English-taught programs available, ranging in price from €2,000 to $3,500  per year. Living expenses are likewise on the modest side, with an annual budget of €6,600 (US$7,700). In the 2020 QS Best Student Cities survey, Warsaw, the capital, was rated in the top 20 cities for affordability, and 53rd overall.
---
#9 Study in Malaysia
Malaysia is unquestionably one of the most affordable nations in which to study abroad, especially in terms of living expenses. In the QS Best Student Cities 2016, Malaysia's capital, Kuala Lumpur, came out on top for affordability, with most students only needing roughly MYR 14,400  per year to live comfortably. Tuition expenses are around US$4,000 per academic year, however, certain degrees are significantly less expensive.
Malaysia is also home to a number of foreign university branch campuses, such as the University of Nottingham in the United Kingdom and Monash University in Australia, which provide students with the option to get a degree authorized by these institutions at a lesser cost.
You can also read about  Scholarships in Malaysia without IELTS - HERE
---
#10 Study in South Africa
South Africa is known for its natural beauty, cultural variety, and stormy past, and it concludes our look at some of the greatest destinations to study abroad on a budget. Another excellent option for those who enjoy the outdoors, is also fairly priced, with minimal living and tuition prices.
International students studying at the University of Cape Town (South Africa's highest-ranked university in the QS World University Rankings) and the University of the Western Cape pay an average of US$6,000 in fees. To pay your living expenses, you'll need roughly R 120,000  every year.
---
You can also watch a complete video on the 10 most affordable countries to study abroad on YouTube HERE
,Fully Funded bachelors Scholarships 2019-2020-2021-2022-2023-2024, Fully Funded masters Scholarships 2019-2020-2021-2022-2023-2024, Fully Funded masters Scholarships School 2019-2020-2021-2022-2023-2024, Fully Funded phd Scholarships School 2019-2020-2021-2022-2023-2024, Opportunities Corners, Scholarships Corners. application form, scholarships form, study visa china, scholarships for college - Austrian government scholarships 2020-2021, CGS CSC STUDY CHINA, FORIGN STUDENTS , TOP UNIVERSITY, HIT, HARIB, TSINGUHA, CHINA, best cv, excellent cv good cv, professional cv, effective curriculum vitae us canada america, europe, summer school