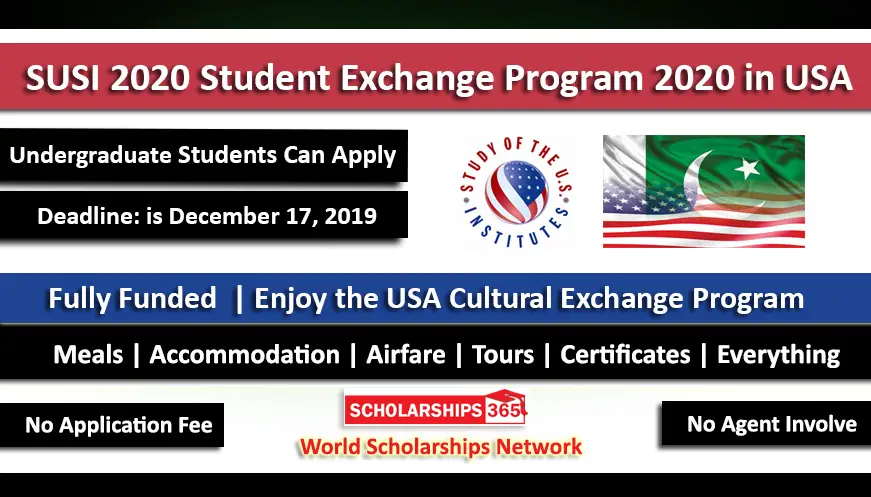 Applications for SUSI Summer Exchange Program 2020 in United States of America - Fully Funded is open now. SUSI 2020 Student Exchange Program USA is fully funded program for males and females students, which will cover all the expenses. Students can apply without IELTS/TOEFL Certificates. Time to Apply Now.
SUSI 2020 Summer Exchange Program 2020 in United States of America

:
SUSI 2020 is a Fully Funded Summer Student Exchange Program Sponsored by the U.S Department of State for Only Pakistani Students. Students don't need CGPA, don't need a passport at the time of apply for SUSI 2020 Student Leadership Program 2020.
SUSI Student Summer Program is only for All Pakistani Students. The purpose of SUSI 2020 Exchange Program is to promote mutual understandings between the Pakistani and United States People. Students with any academic Disciplines are eligible to apply for this program. There is no need of IELTS/TOELF for Apply.
---
Host Country : Enjoy 6 Week Summer Exchange Program in USA.
---
Host University: University of Massachusetts, Amherst
---
Program Offered By: U.S Department of State - Pakistan
---
Funds Coverage: Full Funded
---
No of Participants: 30
---
Degree Level: Undergraduate, Master and PhD Degree Programs in all Fields.
---
😇 So You Will Never Miss Any Opportunity for your excellency. Then hurry up to join, follow and like us on different Social Networks. 😇
---
SUSI 2020 Offers:
Lets fly to United States of Ameria on Fully Funded 6 Weeks, Student Exchange Program. One of excellent Opportunity for Pakistani students who have dream to visit and explore United States on Fully Funded Scholarship for Summer Exchange Program. Fully Funded SUSI 2020 will cover all expenses during VISIT USA. Student don't need to spend a single penny for this program.
Funds Coverage:
Exepnses which will cover by Susi 2020:
Round Airfare Travel Economy Class Tickets.

USA Visa Cost.

Airport Expenses ($150-$175).

Monthly Stipend Up to $15,00 for the whole Program.

Housing and Meal Arrangements: Housing will be in university housing on campus. Most meals will be provided at the campus dining hall where Halal food is served. .

All Field Trips inside the US.

Every Student will receive a Brand New IPAD.

Every Student will receive Mobile Phone for Communication.

The Pakistani students will travel to Famous cities of the USA New York City, Boston, Charlottesville, Virginia and Washington, D.C. during stay in USA.
---
Eligibility Criteria For 2020 SUSI US Exchange program:
Candidates must fulfill the following criteria to avail this Scholarship for Summer Exchange Program SUSI 2020 in USA.
Be proficient in English;

Be interested in the topic of local, state, and federal public policymaking;

Be between 18 and 25 years of age;

Demonstrate strong leadership qualities and potential in their university and community activities.

Indicate a serious interest in learning about the United States;

Demonstrate commitment to community and extracurricular university activities;
Academic Requirements:
Student who are applying should have a Strong Interest in Public Policy, their fields of study. Students from with following disciplines such as Politics, Law, Engineering, Medicine, Science, Biotechnology, Business, Economics, International Development, Management, and others can also apply with following conditions given below.
Students currently enrolled in 2nd Sem,3rd Sem,4th Sem,5th Sem,6th Sem and 7th Sem of their 4 Year BS / Bachelor Degree Can Apply.
Students currently enrolled in 2nd Sem,3rd Sem,4th Sem,5th Sem,6th Sem, 7th Sem, 8th Sem and 9th Semester of their 5 Year Medical Degree Can Apply.
Students currently enrolled in Two-Year bachelors Degree program, can also apply if they are in first year of study. Student with final year of study are not eligible to apply.
Final semester students are not eligible to apply.
---
Selection TimeTable:
Interviews: Late December 2019 OR First Week of January via Skype or Telephonic Interview.
Final Result for Successful Participant: In the mid of March 2020.
Passport & Visa: Successful participants will need to obtain passports & apply for USA visas with the assistance of the Public Affairs Section of the USA Embassy.
Travel Time to the US: Successful Participants will travel to the USA in the Summer 2020.
---
Deadline: The last date to apply for the SUSI 2020 Summer Exchange Program to United States of America is December 17, 2019.
---
How to Apply for SUSI 2020:
Student can apply by the following process given below.
Apply Process Steps:
Student have to Download Application Form Here:

Click Here to Download

Fill the Application Form.

After Completion of form, Send You Application on the Email:

[email protected]
Important Links:
Student have to Click Apply Online Button Below in Green Color For Download Application Form.
You can also visit Official Advertisement from Official Source Button.
---
,Fully Funded SUSI 2020-2021-2022-2023-2024-2025-2026 Student Exchange Program, USA Bachelors Scholarships 2020-2021-2022-2023-2024-2025-2026 in usa, Student Exchange Programs 2019-2020-2021-2022-2023-2024-2025-2026, Study in USA, United States of America Scholarships 2019-2020-2021-2022-2023-2024-2025-2026, Phd Scholarships in USA, Fully funded summer schools Internships in usa, fellowships for phd students