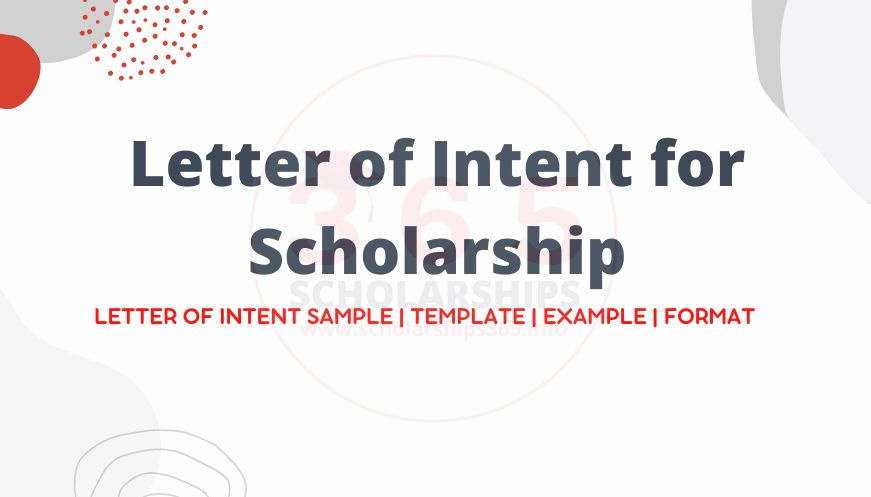 Do you want to apply for Scholarships?  Do you want to be selected by Awarding Committee? You need to submit a Letter of Intent (LOI) or intent letter. Sometimes this Letter of intent also called statement of purpose / personal statement for the opportunity.  In the case of the scholarship award, a letter of intent can be referred to as a statement of purpose where you describe the importance of being awarded the scholarship to you. In order to write a strong letter of intent, you must first understand what makes one successful. Read on to discover the secrets of writing a winning letter of intent! This article will explain how to write award winning letter of intent for a Scholarship.
You can also read about - How to write a Professional CV - Here
What is a letter of intent?
A letter of intent is abbreviated as LOI, a document declaring the commitment of one party to do business with another party. As for a scholarship award, you also need a letter of intent that describes your statement of purpose.
The letter of intent (LOI) is an important part of applying to college. It gives admissions officers a chance to learn more about you and see how well you match the school's academic standards.
The first thing you need to do when writing an effective LOI is to be clear about what you want. What exactly do you want out of the scholarship? Is it money? Or maybe you just want exposure? Whatever it is, be very specific.
You have to follow each important step, including the following:
Purpose of a letter of intent
Letters of Intent main purpose is to define pre-contractual documents that explain certain basic terms upon which parties intend to enter into binding agreements for better future business. A good LOI will not only show that you are interested in the school, but also demonstrate why you would make a good fit there. You should tailor your letter to each institution so that it shows off your strengths and highlights your interests.
---
You can also read about - How to write an email to a professor for an acceptance letter - Here
---
How to Write a Letter of Intent for a Scholarship?
Following is the Format to write a Letter of Intent:
Prepare and Format.

You must read the scholarship guidelines carefully.

Then Describe Your Study Plan.

Begin the letter of intent by introducing what you plan to

study in college

or an institution and why it is important to your future career field.

Describe the reason behind your Passion.  

Finish the letter.
---
You can also read about - How to write a Motivational Letter
---
What not to do in a Scholarship Letter of Intent?
While writing a Scholarship letter of intent, you should not do the following things when writing a letter of intent.
You should not repeat what is composed on your

CV

You should not give a precise introduction.

You have not written your letter for too long explanations.

You should not write your letter at the last minute.

 Don't forget to proofread
Letter of intent Format, Template, Example, and Sample
Suppose you want to apply for scholarships you have to write a letter of intent LOI or an intent letter which is also known as a statement of purpose or personal information written by individuals.
Firstly you have to give a brief Introduction of yourself.

Secondly, include your plans while studying in college or institution, and your motivation for choosing a particular course or the degree program to study.
The main objective of this intent letter document is an important tool through which you can prove yourself to the awarding body and explains that you need a scholarship award given by them and you have the potential to excel in your future career or field of study program. Applicants must need to give some explanation about their educational background or educational achievements. You also need to explain extracurricular activities that you have taken part in, which will give a proof of well-rounded person to be a successful applicant in college or institution.
---
You can also read about - Recommendation Letters Templates for Scholarships
😇 So You Will Never Miss Any Opportunity for your excellency. Then hurry up to join, follow and like us on different Social Networks. 😇
---
Letter of Intent Writing Official Instructions
Before you start writing your letter, you must carefully read all the given guidelines by the awarding officials. Individuals must be clear that what should be written in the letter of intent. There are so many questions that come to mind while writing an intent letter. Any word limit? How many pages? So for writing the statement of purpose, you should follow the general rules like writing cover letters for jobs or other business letters. After that, you should add your personal mailing address and date in the left-hand corner at the top of the letter. After writing that, you should write down the name of the individual to whom the intent letter is to be addressed. And if you write the name of the person whom you writing letter is a good impression on them.
#1 Write about your study plan
You can start your letter of intent by giving a brief introduction in which you will explain the course, degree, or subject that you are planning to pursue at college or institution, you should also explain how it is related to your future career and you have chosen it for yourself. You can take a unique start and then you want to pursue your higher education degree, write the name of the university and explain the program to be enrolled at which level.  And after completion of graduation, you want to pursue in Graduate degree program. Then explain a little bit about your interest in research related to your field and how you can make improvements through research. So, you can briefly describe your academic career and your interest to study at a college or institution and tell about your plans of getting a degree and after that what you will do.
---
You can also read about - Scholarships for International Students 2023 - Here
---
#2 Write about your Passion
While writing about your passion for study, you must have to be specific and to the point in a precise way in your letter. This part is more important to be focused on if you are writing an application or letter of intent for your Master's Degree program scholarships. So, you must do a little bit of work before writing a letter, you must make a list of universities or institutions to which you are interested to apply and must find out the faculty member names related to your majors and want to work under the guidance of professors and scholars. After explaining your plans of studying in college, you must explain your previous academic background or academic performance, if you have any work experience that is relevant to your study also explain that, and if you have any extra skills like leadership skills, teamwork, group projects, sports or others, you can also write it in your application. Write your letter in such a way that awarding authority must be convinced or impressed by your passion for your career and this is a plus point for your selection for a scholarship.
#3 How to End Your Intent Letter
The final paragraph is about how to end your letter as it is also an important part, so you must finalize your letter of intent by writing about your career goals and how to achieve them to make your future career life better. We will give you an example like you can write after the completion of your graduation degree, your objective or aim is to work or gain practical experience in the related field of study in their country.
As you can explain you want to work on new projects to improve and give benefits to society. And explain that you work very hard and try to make your surroundings better and work for the betterment or make platforms for the new students to continue their higher education. This aim could be varied for every individual, so set your goals before writing a letter of intent and then write them in your letter to make a difference for other individuals.
You can also read about - List of Guidelines for Scholarships
---
Letter of Intent for Scholarship Sample | Letter of Intent Example for Scholarship
I have planned to study in Turkey because of following reasons, as in recent years Turkey has become economic superpower, International Trade Orientation and largest contributor in each aspect of life in the world. As for my Master's Degree, I would like do Research in the field of Cyber Security. As Information Technology is concept of Giant Network of Connected Things and People around the globe with the production of incredible large volume of data day by day. The increasing reliance of today computing devices, mechanical and digital machines (Intelligent transportation, Industrial monitoring, Environmental monitoring, Defense and military and digital family), objects, animals or people on cyber (computer-based) infrastructure makes them progressively more vulnerable to cyber- attacks on our computer systems, networks and data.
In educational perspective Turkey is providing top world research and development centers that are equipped with latest tool and technologies. The main focus of Turkey is working on research and development which is providing great and excellent benefits for rest of the whole world. As Turkey is provide Excellent Scholarships for all over the world students and giving excellent opportunities to study in their top level research and development centers in their universities under world best scientists and professor.
I would like to apply for the Master/MS Degree in Cyber Security in Turkish University. In order to complete my educational dreams Turkey is providing the excellent environment for learning and research areas. Turkey people are very kind and big heart to appreciate everyone to learn from their expertise. My motto is to work under the esteem supervision of the world's most talented and highly successful Nation and then serve my Nation by following the same roots. I have also interest with wholehearted to learn Advance Turkish Language and Turkish Cultural values as a vital addition to my learning.
I will try to do my best of abilities in Master Studies in Cyber Security in Turkish University. I believe that my Master/MS come up with a chance to understand the different areas of Cyber Security and resolve different problems of IT. I also want to do something best in Master/MS research which would be good for my Supervisor and University. All these things boosted my confidence positively to study in Turkey to fulfill my dream and also realized the cultural norms and values, the famous gentle hospitality of its people and Pakistan-Turkey Friendship and relationship since past to promote bilateral trade, acceptance and peace to both sides in great clarity make me feel Turkey as my second homeland. I hope that I can gain more experience in dealing with situations, people, systems, and demands that will be of a great help in my future career.
---
Good Luck ;-) If you think we should need to add further information related to Letter of Intent for Scholarship, Please write us back with your suggestions at [email protected]
,letter of intent sample for college school university , sample for letter of intent, letter of intent job, letter of intent for a job, whats letter of intent, letter of intent job sample, letter of intent how to write, letter of intent for promotion