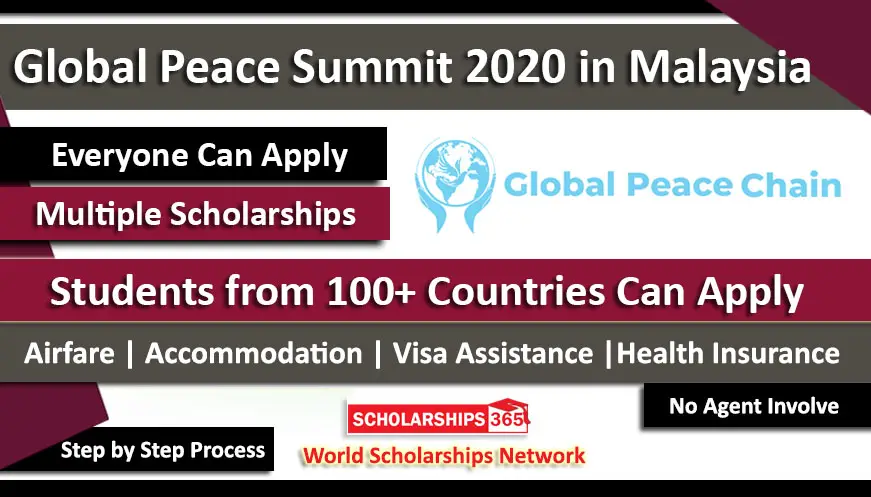 Application are open for Global Peace Summit 2020 in Kuala Lumpur, Malaysia for International Students. One of the World Biggest Youth Event Happening in Malaysia. Foreign Students from 100+ Countries can Apply for this opportunity. One of the World Biggest Youth Event Happening in Malaysia for Global Peace Discussion. Are You Ready to Spend a Free Week in Malaysia ? Have you applied for  Fulbright Scholarships 2021 - USA - 4000+ Scholarships - Apply Now.
Global Peace Summit 2020 in Kuala Lumpur, Malaysia:
Students from more than 100+ countries are invited to participate with their ideas and road maps to achieve sustainable development goals and advocate peace in their communities to counter extreme violence, hate, and every kind of discrimination in the world.
International Participants from all over the world with any nationality are eligible to apply for Global Peace Summit 2020 in Kuala Lumpur, Malaysia. Global Peace Summit 2020 is providing an opportunity to extraordinary young, competent, and enthusiastic peacebuilders from different part of the world.
Global Peace Summit Malaysia 2020 will incline commencement of mutual understanding, capacity building of youth, social harmony, exposure and interaction with young brains under a single umbrella. GPSUM also aims to engage young people in conflict resolution, amplify their voice for social justice, and create a harmonious environment among communities & societies.
This summit aims to connect inspiring young people, to develop their skills in the sphere of peace education, to help them exchange ideas and share projects, while networking with like-minded individuals and world leaders.
---
Host Country : Conference in Malaysia
---
Host Organization:  Global Peace Chain
---
Conference Dates: 26 Feb, 2020 - 29, Feb 2020
---
Financial Coverage: Fully Funded / Partial Funded / Self Funded
---
Degree Level: Students from any Academic Field are eligible to Apply.
---
😇 So You Will Never Miss Any Opportunity for your excellency. Then hurry up to join, follow and like us on different Social Networks. 😇
---
Financial Package for Global Peace Summit 2020:
It is excellent Opportunity for those students who have dream to visit Malaysia on Fully Funded International Conference for Global Peace Summit 2020. There are different types of funding opportunities for this forum. Organization offers Fully Funded, Partial Funded and Self Funded participation in global summit 2020 in malaysia. Want to Participate in International Summit 2020 in Malaysia? Apply Now
Expenses which will cover by Global Peace Summit 2020 - Fully Funded:
    Airfare & Accommodation

    Visa Assistance

    Opportunity to interact with Global Leaders

    Meet with like minded young social entrepreneurs

    Share your initiatives with others

    Peace Education & Leadership Capacity Building

    Panel discussions

    Key note speeches

    Focused group discussions

    Group activities

    Awards & Certifications

    Signatory campaign

    Cultural Presentation

    Gala Night

    Site visit
Important Note: The application fee is 25 USD only and refundable upon rejection from defined categories.
---
Themes of the Conference:
Peace Education: Peace education is the process of acquiring the values, the knowledge and developing the attitudes, skills, and behaviors to live in harmony with oneself, with others, and with the natural environment.
Global Citizenship: Global citizenship is the idea that all people have rights and civic responsibilities that come with being a member of the world, with whole-world philosophy and sensibilities, rather than as a citizen of a particular nation or place.
Amplifying Voices of Youth: Collecting 1 million voices for Peacebuilding & social justice all around the globe and submitting a petition in United Nations with the charter of demand with #PeaceByDialouge.
Women, Peace & Security: To create lasting peace, we need women's voices. From conflict prevention and conflict resolution to reconciliation and economic recovery post-conflict, women's meaningful participation in peace processes increases the likelihood that an agreement will last longer than 15 years by as much as 35 percent.
Diplomats & Religious Scholars Talk: These sessions will bring an understanding of world efforts to resolve conflicts and their policies to counter anti-peace elements. Religious Scholars talk will shed light on role of Religion to counter rise of conflicts and terror.
Climate Action for Peace: The theme draws attention to the importance of combating climate change as a way to protect and promote peace throughout the world.
---
Eligibility Criteria:
Candidates must fulfill the following criteria to avail the this opportunity.
    Youth between 16-35 of age.

    Open minded,highly motivated and passionate.

    Students,young professionals are encouraged to apply.

    Passionate to achieve United Nations Sustainable Development Goals
Selected applicants will be informed by email.

Applicants who will pay fee along with application will be considered for final phase
---
How to Apply for Global Peace Summit 2020:
You have to Apply Online by Online Button Given Below. In case of any questions, For further inquiries, please email at [email protected]
---
Deadline: January 30, 2020
---
,free international conference 2019-2020-2021-2022-2023-2024-2025-2026, free international youth conference 2019-2020-2021-2022-2023-2024-2025-2026, free partial funded youth conference 2019-2020-2021-2022-2023-2024-2025-2026, free global summit funded youth conference 2019-2020-2021-2022-2023-2024-2025-2026, study in malaysia, Fully funded fELLOWSHIP scholarships 2020-2021-2022 in Malaysia, malaysian government universities scholarships , 2020-2021 malaysian Government Scholarships Process 2020-2021-2022-2023-2024