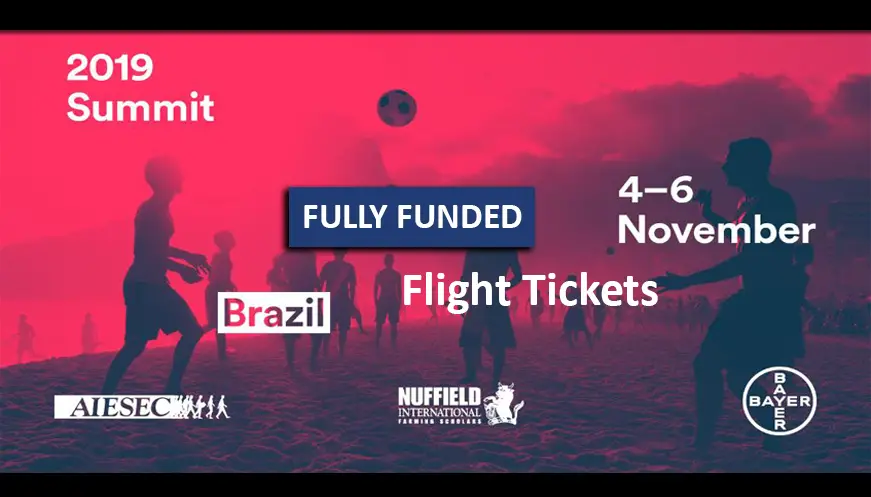 The Youth Ag Summit is a unique opportunity to connect and empower the next generation of agricultural change-makers. The fourth edition of the Youth Ag Summit will be hosted in Brasilia, Brazil, between November 4 and 6, 2019. Once again, 100 young delegates from across the world will be chosen to attend. However, for the first time, the final selection of delegates will be based on their proposed project ideas.
To apply, eligible candidates (young people aged 18 to 25 with a passion for agriculture) will need to submit an idea for a 'Thrive for Change' project.
Scholarship Award:
It covers International flights, transportation, accommodation, and catering during the event.

Any other travel costs unrelated to Youth Ag Summit activities will not be covered by the organizer.
---
Country of Origin: Brazil
---
Duration of Conference: 3 Days
---
Cost: Fully Funded
---
Programe Theme to apply:
The Youth Ag Summit YAS 2019 theme is Feeding a Hungry Planet (food security).
The world's population is expected to reach almost 10 billion by 2050. To feed everyone, we need to produce 50% more food with less land and fewer resources. Cutting-edge farming practices can help, but many people are wary and misinformed when it comes to modern agriculture. We need to bridge the disconnect between those who produce our food and those who consume it.
---
😇 So You Will Never Miss Any Opportunity for your excellency. Then hurry up to join, follow and like us on different Social Networks. 😇
---
Eligibility Criteria:
Open to young people aged 18 to 25 with a passion for agriculture, food security, environmental stewardship, world hunger, biotechnology, farming, or animal husbandry.

They welcome applications from current students, as well as young people already working in a relevant field, who would like to plant a path towards ending hunger and global food insecurity.

Applicants DO NOT have to be farmers.
They are looking for people who are engaged with the

 

Sustainable Development Goals

,

ready to share their views on how to feed a hungry planet, and passionate about making a difference.
---
How to Apply:
You will need to share the following information as part of the application process, so please keep to hand:
Your contact details and personal information

A high-quality portrait picture (this doesn't need to be formal)

A 3-minute video explaining why we should choose you! Please upload this as a private video to YouTube and share the private link with us in Part 4 of the application. 
---
Deadline: 
The application period start from 17 September 2018 until 10 January 2019. Name of Selected Candidates will be announced in May 2019.
,Youth Ag Summit Brazil 2019, Conferences Fully funded 2019, Scholarships fully Funded 2018 2019, Latest Scholarships, Fully Funded Scholarships 2019, Youth Ag Summit Brazil fully funded, , , , , , ,