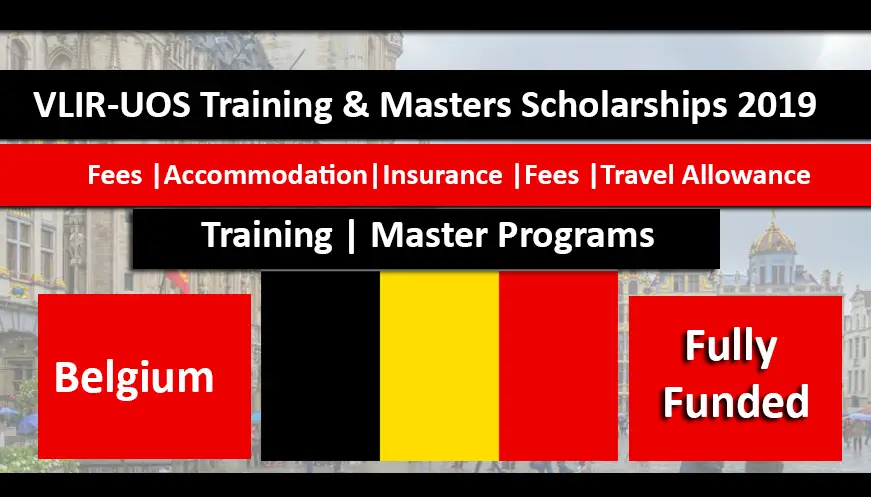 Vilruos award scholarships to students and professionals from a number of countries to study in Flanders as well as travel grants to Flemish/European students to do fieldwork/internships in one of the 31 scholarship countries in Africa, Asia or Latin America.
---
Field of Study:
English Taught Training and Master's Programme at participating Belgian Universities
---
Scholarship:
Funded
---
Scholarship Award:
VLIR-UOS only provides full scholarships for the total duration of the training or Master.

The scholarships cover allowance, accommodation, insurance, international travel and tuition fee.
---
Eligiblility Criteria:
Nationality and Country of Residence: A candidate should be a national and resident of one of the 31 countries that are stated above of the VLIR-UOS country list for scholarships (not necessarily the same country) at the time of application.
Age: The maximum age for a Master programme candidate is 35 years for an initial masters and 40 years for an advanced masters. The candidate cannot succeed this age on January 1 of the intake year.
Professional background and experience

Priority is given to candidates who are employed in academic institutions, research institutes, governments, the social economy or NGOs, or who aim at a career in one of these sectors. However, master candidates employed in the profit sector or newly graduated candidates without any work experience can be eligible for the scholarship as well, depending on their motivation and profile. The training candidate should have relevant professional experience and a support letter confirming (re)integration in a professional context where the acquired knowledge and skills will be immediately applicable.

Note:Read the complete eligibility and selection criteria at the official website.
---
😇 So You Will Never Miss Any Opportunity for your excellency. Then hurry up to join, follow and like us on different Social Networks. 😇
---
Countries that are eligible:
Benin

Burkina Faso

Burundi

Cameroon

Democratic Republic of the Congo

Ethiopia

Guinea

Kenya

Madagascar

Mali

Morocco

Mozambique

Niger

Rwanda

Senegal

South Africa

Tanzania

Uganda

Zimbabwe

Cambodia

Indonesia

Palestinian Territories

Philippines

Vietnam

Bolivia

Cuba

Ecuador

Guatemala

Haiti

Nicaragua

Peru
How to Apply:
Some applications are open, some are still closed but opening soon. 
Via the university's website, you will have to apply for both admission to the programme as well as for the scholarship itself. 

When you apply for the programme, be sure to mention whether you wish to apply for a scholarship.

 The deadline varies and are determined by the Master's or Training programme but most deadlines are around November 2018-March 2019.
---
Deadline:
Most deadlines are around November 2018-March 2019.
,Masters scholarships, scholarship in belgium, scholarships, scholarships 2019, master scholarships 2019, belgium master scholarships 2019, Scholarships for Africans, scholarships for american, asain, , , , , , ,