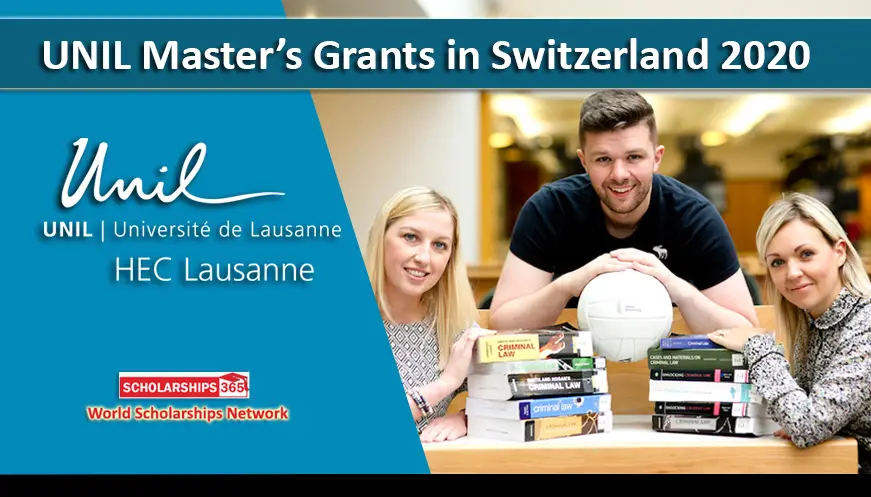 Applications for UNIL Master's Grants 2020 in Switzerland for Foreign Students are open at The University of Lausanne in Switzerland. UNIL Master's Grants Scholarships 2020 Program offered Financial aid for international students which cover tuition fee and monthly stipend during study. International Students from All over the world Can Apply for this Prestigious Scholarship. Are You Want to Study in Switzerland Financial Support by University?
UNIL Master's grants Scholarships 2020: 
Masters scholarships are scholarships for excellence awarded exclusively to students who have graduated from a foreign university and whose academic results are of a very high level.
This scholarship funded Master international students to support their studies at University of Lausanne in Switzerland. They offers multiple degree programs for international students at university.
The University of Lausanne in Switzerland is one of the leading and Presstigious Learning and world class research university in world.They are offereing multiple degree programs different courses per year. University is top ranked in in world for research excellence and quality of research.
---
Host Country : Study in Switzerland
---
Host University: The University of Lausanne, Switzerland
---
Scholarships Offered By: Funded by Université de Lausanne
---
Scholarships Coverage: Partial Funded (Monthly Stipend & Semester Fees Cover)
---
Degree Level:  Master ( Multiple Fields)
---
Students Should Like & Follow US on Facebook, Twitter and WhatsApp. So You Will Never Miss Any Opportunity for your excellency.
You can also Apply for following opportunities.
😇 So You Will Never Miss Any Opportunity for your excellency. Then hurry up to join, follow and like us on different Social Networks. 😇
---
Financial Package by UNIL Master's grants 2020-2021:
Who want to Free Study in Switzerland? It is excellent Opportunity for those students who have dream to study in Switzerland Funded Scholarships for Their Master Studies. UNIL Grants Scholarship 2020-21 will cover the following expenses during study at University of Lausanne.
Here is List of Exepnses which will cover by this program:
The scholarship is granted for the minimum statutory period of the programme chosen by the student. It amounts to CHF 1,600 per month from 15 September to 15 July (or 10 months a year) for the complete duration of the masters (one and a half years or two years depending on the chosen masters), with the exception of cases of definitive failure after the first year.

Students offered a scholarship will be exempt from the fixed registration fees for the courses, with the exception of the CHF 80.00 fees to be paid each semester.
---
Programs Offered:
Scholarships are available to pursue International Masters Degrees.
The list of all Masters degrees at UNIL : Click Here to Check
It is not possible to apply for the following programmes:
    Master from the School of Medicine

    Master of education

    Master of Law from the Universities of Zurich and Lausanne

    Master of criminal Law, magistracy specialism

    Master of Science in Physical Education and Sports Didactics

    All MASs (PhD programmes)
Please note: for the Master of Law, only two specialisms,"international and comparative law" and "legal theory" are open to applications for Masters scholarships.
---
Eligibility Criteria:
Candidates must fulfill the following criteria to avail the UNIL Masters Scholarship for their study.
Eligible Countries: International Students from any country can apply.
---
Other Requirements:
    To have obtained a foreign university degree considered equivalent to a bachelor at UNIL before the beginning of the masters programme at UNIL.

    To have distinguished yourself during your studies, especially through particularly brilliant academic results.

    To have a language level of at least B2 (according to the European Language Portfolio global scale) in French or English according to the language in which your chosen masters is taught.

    Not to have been registered with UNIL in the past.

    To have paid the CHF 200.00 administration fee (see document, "list of documents to attach to your application").
---
Required Documents: Click here to Check
---
Procedure to Apply:
You must not make an application for admission to the masters degree via the Admissions Department (SII).
Candidates must send their completed application (refer to the document, "list of documents to attach to your application"), unbound, by post only to the following address:
Université de Lausanne
Service des affaires sociales et de la mobilité étudiante (SASME)
Bâtiment Unicentre
CH - 1015 Lausanne
Switzerland
The application form must be completed on a computer and duly signed by the candidate.
The application for the Masters scholarship also serves as an application for admission to your chosen masters (and therefore an application to register at UNIL).
---
Note: Students have to check official advertisement by click on Official Source Button for more information.
---
Deadline: The deadline for applications is 1 November to begin a masters degree during the following academic year, in the autumn semester or the spring semester if the programme allows. The postmark will attest to the date sent.
Incomplete applications, particularly those lacking certified copies of the academic documents requested, will not be considered.
,Scholarships365, UNIL Masters, UNIL Masters grants 2020-2021, UNIL Masters Grants 2020 in Switzerland for Foreign Students, scholarships for excellence, UNIL Masters Grants Scholarships 2020, financial aids, lausanne scholarships, universite de lausanne, zurich and lausanne master, , , , , , ,