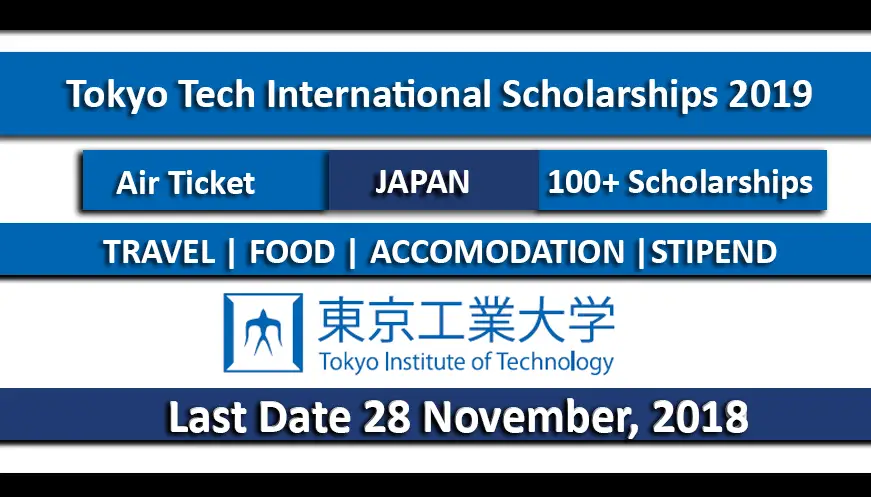 Tokyo Tech launched its International Graduate Program in October 2007 as an opportunity for qualified international students, who may have little or no knowledge of the Japanese language, to enroll in Tokyo Tech's Master's or Doctoral Programs and pursue an advanced degree in Japan. Tokyo Tech's Scholarship 2019-2023 Japan are now accepting International Applicants for MS and  PhD Programs.
Tokyo Tech offers the following two programs for which graduate-level students can apply.
Interested students can apply for either of these programs, but ❌ it is not possible to apply to both programs simultaneously. ❌
Research Student Program  (non-degree students) 

(For More Info Click Here)

International Graduate Program A [IGP (A)]
International Graduate Program A [IGP (A)]:
For the IGP (A), students can directly apply to enroll in the master's or integrated doctoral programs at Tokyo Tech from abroad. Lectures and seminars for the IGP (A) are conducted in English. Applicants with outstanding academic performance records are eligible to apply for the Japanese government scholarship.
Applicants are required to specify their choice of program from among:
International Graduate Program in Science for Innovative Leaders (PSIL)

Super Smart Society Engineering Program (SSSEP)

Program for Highly-skilled Professionals for a Smart Society Supported by Advanced Materials and Chemical Technology : SSMCT

International Graduate Program on Applied Artificial Intelligence and Cyber-Security

Graduate Program to Foster Global Ecosystems

Postgraduate Program for Environmental Designers Contributing to Resilient Cities

Global Engineering Program for Inclusive Society and Sustainable Environment
Scholarship Award:
Full Funded MEXT Scholarship Offer:
Full Scholarship (available to prospective degree students) covers:
 A monthly stipend of 147,000 JPY for Master's students
 A monthly stipend of 148,000 JPY for PhD students
 Scholarship covers Fees for matriculation, tuition and entrance examinations 
 Recipients will be provided with an economy class air ticket
---
Criteria and Eligibility:
To be applicable for scholarship, candidate must obtain acceptance letter from the university Note(Attach a printout of email correspondence or any other proof to verify that a Tokyo Tech faculty member has consented to be the applicant's academic supervisor during the intended period of study at Tokyo Tech.)
Applicants must have the nationality of a country that has diplomatic relations with Japan. 

 Applicants must have been born on or after April 2, 1984.

Applicants must have academic ability equal or superior to that of a Japanese university graduate. 

Each applicant should apply for the field of study he/she studied at the previous university or a related field.

For research in fields which require Japanese language (e.g. Japanese history, linguistics), applicants must have the ability to conduct research in Japanese.

Applicants must be physically and mentally able to pursue studies at Tokyo Tech.

Applicants should be willing to participate in community events held in Japan to promote mutual understanding.
---
😇 So You Will Never Miss Any Opportunity for your excellency. Then hurry up to join, follow and like us on different Social Networks. 😇
---
Application Documents Required for apply:  
The applicants are required to provide the following application materials during registeration Process.
---
Applicants must arrange for a Tokyo Tech faculty member to serve as an academic supervisor and undergo an initial interview before the stated application deadline. In order to be considered for admission, the applicant must first find an academic supervisor. The applicant is required to communicate directly with his/her intended academic supervisor at Tokyo Tech and obtain the consent of the desired faculty member to serve in this capacity. Applicants must directly contact the intended academic supervisor via email and provide a self-introductory statement and a letter of intent for his/her period of study at Tokyo Tech.
---
Checksheet Download Form and Application Form which candidates can get by Clicking Here.
---
Field of Study and Research Plan attached form
---
Official Academic Transcripts and Certificate of Graduation or Expected Graduation from both undergraduate and graduate schools (originals or certified copies)
---
Summary of Thesis (an outline of your study or research in your undergraduate course.)
---
English Proficiency Test Score Report Applicants are required to submit English proficiency test score reports from TOEFL-iBT, TOEFL-PBT, TOEIC, or the IELTS 
Note (Native English speakers and students who have been awarded an undergraduate and/or graduate degree from an institution where all instruction was in English may not be required to submit English proficiency test scores.)
---
Recommendation letters in English by professors or associate professors.
Evaluation Sheet with Recommendation (in a single document) from a supervisor or head of department or similar official of the last university attended to verify the potential of the applicant Attach Form
---
Photocopy of valid passport.
---
The completed application documents must reach the International Student Exchange Division no later than January 7, 2019 by registered mail, courier service or a similar service.
---
Mailing Address:
Admissions Division
Student Service Department
TOKYO INSTITUTE OF TECHNOLOGY
West Bldg. 8E 212, 2-12-1 Ookayama, Meguro-ku, Tokyo 152-8550 JAPAN
Tel: +81-3-5734-3990
---
Application Deadline: 
September 13, 2018 to November 28, 2018
---
If you have any inquiry you can email to [email protected]
,MEXT, MEXT Scholarship 2019, MEXT Scholarship 2018, Japan Scholarship 2019, Scholarship in Japan for Pakistani, Fully Funded MEXT Scholarships, Fully Funded Japan Scholarships, Scholarships 2019, Tokyo Tech Scholarships, phd 2019 scholarships, new ms scholarships 2019, latest 2019 scholarships, Japan MS Scholarship, Japan PhD scholarships, Graduate Program A Tokyo Tech, , , , , , ,