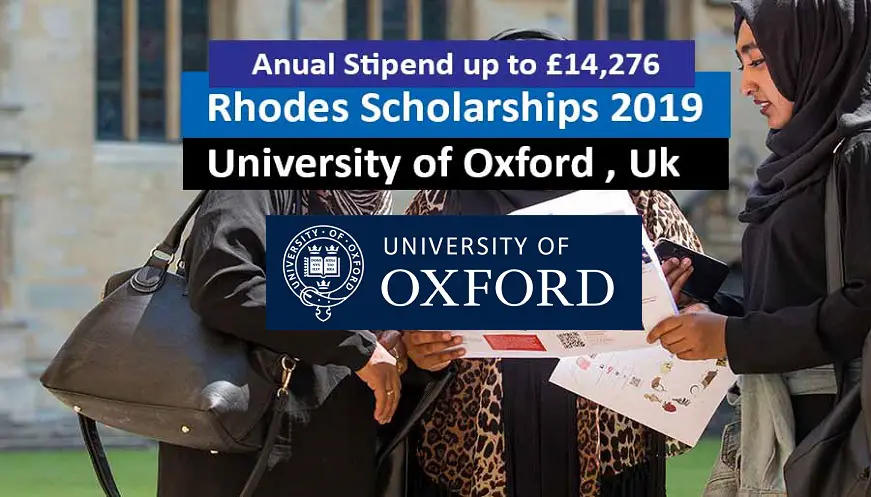 The Rhodes Scholarships 2019 are provided to postgraduate international outstanding students to support their studies at the University of Oxford. Rhodes Trust is stablished in the will of Cecil Rhodes in 1902. They provided Rhodes prestigious international scholarship program in the world. It is oldest trust and scholarship provided organization in the world.
Scholarship Description:
This scholarship funded Master and Phd international students to support  their studies at Oxford University in UK. They offers multiple degree programs for international students at university. About 100 Scholarships are available per year.
---
Oxford University United Kingdom:
The University of Oxford is one of the leading and Presstigious Learning and world class research university in world.They are offereing upto 1000 different courses per year. University is top ranked in in world for research excellence and quality of research.
Host University: The University of Oxford England
---
Host Country: England
---
Courses Availble: Multiple Degree Programs are available ( Must be full time degree program)
---
Eligible Countries: 
International Students from following Countries:
Canada, China, Australia, Bermuda, Germany, Hong Kong, India, Israel, Jamaica & the Commonwealth Caribbean, Kenya, Malaysia, New Zealand, Pakistan, South Africa, Botswana, Lesotho, Malawi, Namibia, Swaziland, Syria, Jordan, Lebanon, Palestine, United Arab Emirates, United States, West Africa, Zambia and Zimbabwe are included in this list.
---
Scholarship Award:
      No of Scholarships Available : 100 Scholarships are available each year for international students.
Scholarship will cover:
Full University and College fees .

University application fee.

Anual stipend upto £14,276 .

Two economy class airfare to Oxford at the start and flight back to the student's home country.

Scholarship is offers for two years with satisfactory academic performance and personal conduct.
---
😇 So You Will Never Miss Any Opportunity for your excellency. Then hurry up to join, follow and like us on different Social Networks. 😇
---
Criteria and Eligibility:
Citizenship of elegible country by Rhodes Countries  View List
Age is between 18 to a maximum of 28 by 1 October of the year following selection.

All admission applicant must have achieved academic standing sufficiently advanced to assure completion of a bachelor's degree by the October with excellent grades.
---
Application Procedure to apply:
The System will begin accepting international students applications for before the closing date depending on country.

Passport and Citizenship Certificate/Card.

Educational Certificates base on admission criteria.

English Proficiency Certificates (

May be they ask for IELTS but English Proficiency Certificate is also acceptable

).

Personal Motivational Statement/ Letter ( Who are you? Why are you applying for the Rhodes Scholarship?What matters to you? What are you hoping to do in the world? What do you wish to study at Oxford and why).
Reference Letters 4-8 (atleast 3 from Home University).

Scholarship is only available for Master and PhD degrees (or any full time degree program after graduation).
---
Application Deadline: Applications starts from 1 June, 2018 and End in Mostly August 2018 (Different countries have different deadlines so kindly apply according to your country date)
Note: Mostly open for all countries now (After click on Apply Online Button you have to select your country so if scholarships are open for your country you can register and apply for scholarship otherwise you have to wait for some days).
,Rhodes Scholarships 2019, Master Scholarships 2018, UK Scholarships 2018, Oxford University Scholarships 2018 , , , ,