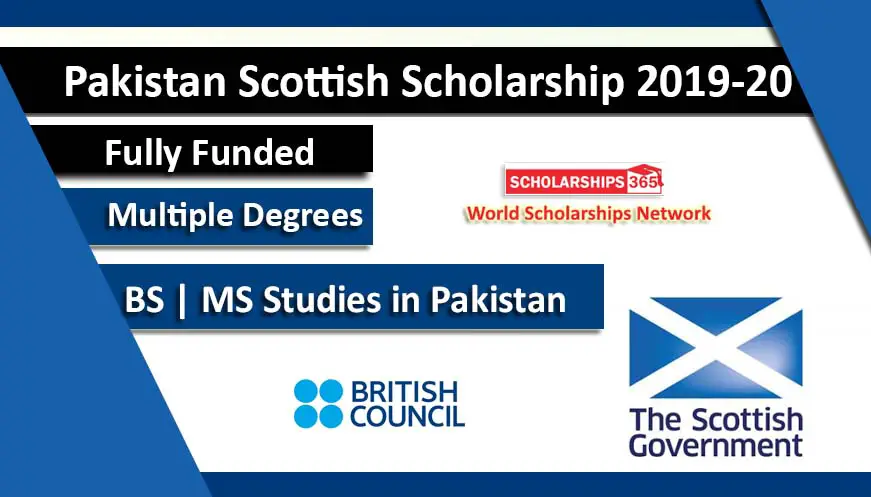 The Pakistan Scottish Scholarships 2019-20 are open for Pakistani Students at different HEC Recognized Universities in Pakistan. Pakistan Scottish Scholarships Program 2019-20 offered Fully Funded Scholarships for 4 Years Bachelor's or 2 Years Master Degree Program across the Pakistani Universities.
Pakistan Scottish Scholarship Scheme 2019-20: 
Pakistan Scottish Scholarship Scheme 2019-20 provides scholarships for Pakistani Students for a range of  4 Years Bachelor's and 2 Years Master's Degree courses at different universities in Pakistan, which aim at providing academically educated young professionals in Pakistan.
For the very first time this year, the Pakistan Scottish Scholarship is being offered at undergraduate level for a four-year's bachelor's degree as well.
British Council will administer the scheme in Pakistan and coordinate with selected scholars and universities either directly or through nominated university focal persons.
---
Host Country : Study in Pakistan
---
Host University: Multiple Universities of Pakistan
---
Scholarships Offered By: Funded by Scottish Government
---
Scholarships Coverage: Fully Funded
---
Degree Level:  4 Years Bachelor and 2 Years Master
---
Students Should Like & Follow US on Facebook, Twitter and WhatsApp. So You Will Never Miss Any Opportunity for your excellency.
You can also Apply for following opportunities.
😇 So You Will Never Miss Any Opportunity for your excellency. Then hurry up to join, follow and like us on different Social Networks. 😇
---
Financial Package by Pakistan Scottish Scholarship:
Who want to Free in Pakistan? It is excellent opportunity for those students who have dream to complete her studies on Fully Funded Scholarships for Their Bachelor's and Master Studies. Fully Funded Scottish Scholarship will cover all the expenses during study. Applicants are invited for Pakistan Scottish Scholarships Program for Pakistani students.
Here is a List of Expenses which will cover by this program:
    Tuition fees for courses in eligible fields
    University hostel costs (where applicable)
    Travel to and from home to university two times a year for students staying in on-campus hostels
---
Programs Offered:
Scholarships are available to pursue Bachelors & Masters Degrees. The scholarship will cover a four-year Bachelor's Degree & 2 Years Master Degree at an HEC-recognised Pakistani university in one of the following subject areas only:
    Education

    Sustainable Energy

    Food Security and Agriculture

    Health Sciences
---
Eligibility Criteria:
Candidates must fulfill the following criteria to avail the Pakistani Scottish Scholarship for their study in .
Eligible Countries:     
    Pakistan
---
Academic Requirements:
These scholarships are open to female applicants only. In addition, applicants must:
    Be Pakistani nationals currently residing in Pakistan  

    Be pursuing a four-year bachelor's degree or two-years master degree in the above listed subject areas

    Hold a confirmed admission offer from an HEC recognised university in Pakistan

    Young women with disabilities, from rural areas and/or minority groups are encouraged to apply.
---
Required Documents:
A complete application includes the following Documents given below.
    A duly filled out application form

    Scanned copy of CNIC

    Scanned copy of transcripts

    Proof of admission and/or enrolment at the master's/bachelor's level

    Tuition fee form.
---
Procedure to Apply:
There are two methods for apply for Scottish Pakistan Scholarships.
Apply Online
Apply Through Courier
For Apply Online:
The online application form can be filled and submitted on the official British Council website, at the link:
Apply Through Courier:
Application forms can also be downloaded from the Downloads section below. Completed applications should be sent via courier to the British Council Islamabad office at the following address:
Coordinator Scottish Scholarship Scheme
Pakistan Scottish Scholarships Scheme
British Council Pakistan
PO Box 1135, Islamabad
---
Students Can also check official advertisement by click on Official Source Button.
---
Deadline: The last date to Apply for the Pakistan Scottish Scholarship Scheme 2019 is August 30, 2019
,Pakistan Scottish Scholarship Scheme 2019-20, Scholarships - British Council | Pakistan, Scholarships 2019-2020 Fully Funded, Scholarships 2012-2021 Fully Funded, Scottish Scholarship 2019-2020, Scottish Scholarship 2020-2021, , ,