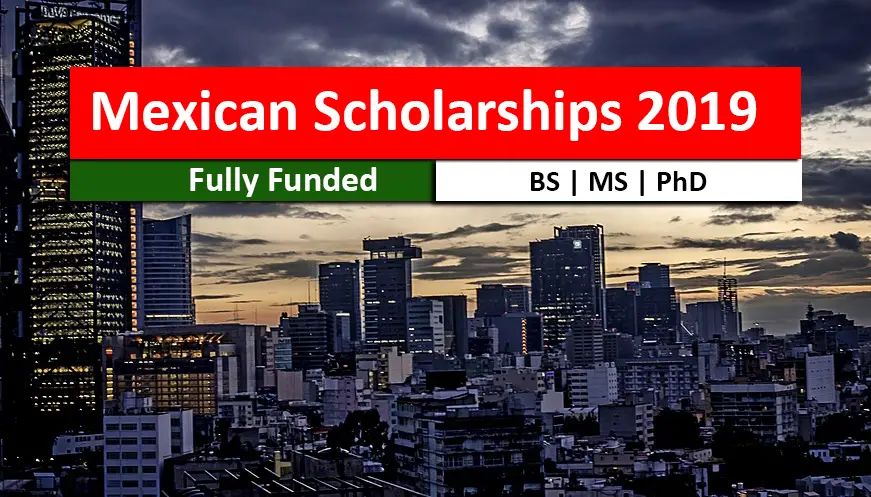 Mexican Government Scholarship 2019 are available on the behalf of the Ministry of Foreign Affairs, the Mexican Agency for International Development Cooperation (AMEXCID) invites foreign citizens who are interested in studying for a specialization, master's degree or doctorate, conducting graduate or postdoctoral research, or taking part in an undergraduate or graduate -level academic mobility program, to participate in the 2019 Mexican Government Scholarship Program for International Students.
Mexican Scholarship 2019 for International Students is a  fully funded scholarship which provides great opportunity to explore the horizons of different industries. The Scholarship will cover all the Expenses of a student. Mexican government invites international students every year  under amexcid scholarship.
Host Country: Mexico
---
Host Universities: More then 70+ Mexican Universitie
List of Universities Check Here Universities List
---
Duration of Programs:
  

  BS or Undergraduate & Graduate Mobility Programs (One Academic Term (trimester, quarter or semester))
    Graduate-Level research and postdoctoral fellowships (12 Months (1 Month Minimum))

    Specialization in any Field (1 Year)

    MS or Masters Degree (2 Years)
    PhD or Doctoral Programs (3 or 4 Years (according to the program)
    Medical specialization and subspecialization (3 Years)
---
Eligible Countries: World Wide.
---
Scholarships Offers:
Accommodation.

Meals.

No registration or participation fee

.

Monthly Stipend for MS 530$ US Dollers and PhD 665$ US Dollers.

Visa Processing

Health Insurance

Round trip to and from Mexico. (Starting point and Back)
---
Application Requirements:
    The scholarships offers only for Specialization,Bachelors , Master's or Ph.D. Degrees, and Postgraduate Degree and Researches.   

    Candidates cannot be living in Mexico at the time of application.

    Requests for information and all scholarship applications must be submitted to the Mexican embassy or concurrent embassy of the applicant's country or to the designated Mexican institution. Only applications that fulfill all of the requirements will be considered.

    All documents and forms must be in Spanish or submitted with translations into Spanish. ( Contact to Higher Education Department for translate of your degrees to spanish language)
    Candidates will be informed of the results by the corresponding Mexican embassy or designated Mexican institution.

    The scholarships are not transferable and cannot be deferred to future years

. 
---
😇 So You Will Never Miss Any Opportunity for your excellency. Then hurry up to join, follow and like us on different Social Networks. 😇
---
---
Application Apply Related Info Links:
List of Universities Check Here

Universities List

Download

Scholarship Application form

Check Here further details

Scholarships Detail
First find the university of your field , then apply in university and select Mexican Government 2019 Scholarship during registeration process.
---
Application Deadlines:
    The Application Deadline for the Mexican Government Scholarship is 28th September 2018.
    The Results will be announced on 5th December 2018 through the Mexican diplomatic offices abroad.
,amexcid scholarship, Master Scholarships, Scholarships, Undergraduate2019 Mexican Government Scholarship Program for International Students, , Masters Scholarships for international Students, Mexican Government Scholarship, mexican government scholarship 2019, scholarship for international students, scholarship for international students in mexico, Undergraduate Scholarships for International Students, , , , , , ,