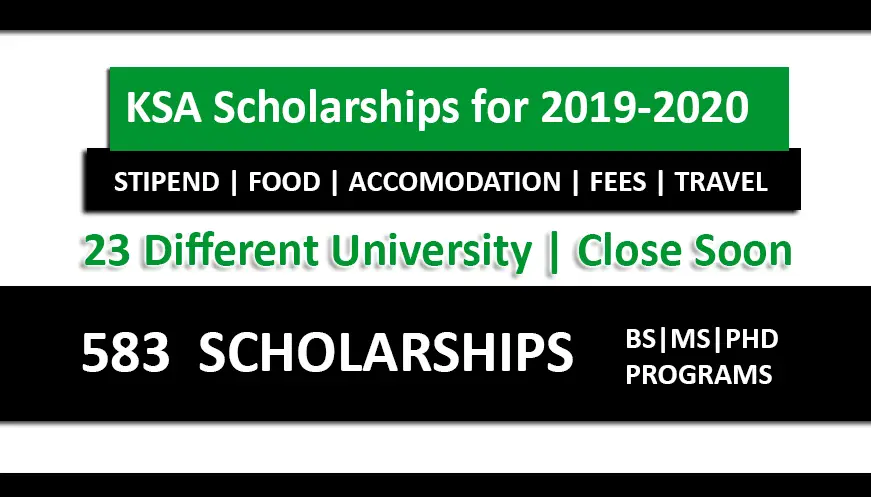 Saudi Arabia is offering 583 scholarships for Pakistani students. The Embassy of Saudi Arabia is inviting students from all over the Pakistan to apply for Saudi Arabia scholarships.
583 Scholarships will be offered in different disciplines. There are 23 Saudia Universities which are offering Scholarships.Students from all over the Pakistan are eligible to apply. 
The students can apply to any field except health.
Scholarship Award:
Funded Scholarship Offer covers:
It offers accomodation, education, social and cultural training

health care facilities for student and their family

paying 2 month furnishing allowance stipend when student arrives

paying 3 month Graduation allowance stipend when student arrives

Covers Cost meals

Cover round airfare travel tickets
---
Criteria and Eligibility:
For undergraduate study, applicant should not be less than 17 years & should not be more than 25 years.
 For masters study, applicant should not be more than 30 years old and for PhD applicant should not be more than 35 years old.

Applicant shoud be granted any other scholarship in Saudia Arabia.

Certifactes and transcripts should be verified from authoritites.

The applicant should upload a certificate of Non criminal record from security services.

The educational institution may require a recommendation for the student from one of the authorities, institutions or individuals that are detennined by the institution
---
😇 So You Will Never Miss Any Opportunity for your excellency. Then hurry up to join, follow and like us on different Social Networks. 😇
---
Universities offering scholarships:
---
How to Apply:
Applying to the university can be done directly through the electronic website.
---
Deadline:
Deadline varies from university to university. So check website of your interested university.
---
,Scholarship, Saudi Arabia Scholarship, Saudi Arabia Scholarship fully funded for BS,MS and PhD, Saudia Scholarships for Bachelors, Masters and PhD, Saudi Arabia Scholarship 2019, Saudi Arabia Scholarships 2018, Scholarship 2019, BS Scholarships 2019, MS Scholarships 2019, PhD Scholarships 2019, Saudi Arabia Scholarship 2019 2020, Universities under Saudi Arabia Scholarship, , , , , , ,