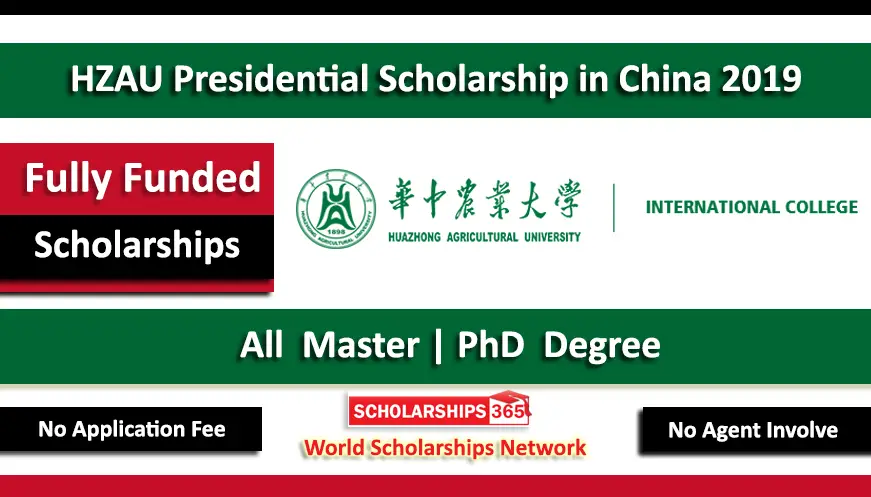 Located in Wuhan, Huazhong Agricultural University (HZAU) is a national key university. HZAU enjoys a history of 120 years, tracing back to Hubei Farming School founded in 1898 by Zhang Zhidong, the governor of Hubei and Hunan provinces at the time.HZAU consists of 18 colleges and departments, with more than 2600 faculty and staff, and over 26,000 of enrollment.
Value of the scholarship:
①Tuition waiver.
②Accommodation: Free university dormitory
 HZAU will provide each Doctoral student a single room, while provide a twin room shared by two Master's students.
③Stipend:
Master's students: 2,100 RMB/month;
Doctoral students: 2,500 RMB/month.
Within the scholarship duration, registered scholarship students will receive a stipend from HZAU each month. 
④Comprehensive medical insurance.
---
Eligibility Criteria:
①Applicants must be non-Chinese citizens in good health.
②Applicants for master's degree studies must have bachelor's degree and be under the age of 40.
③Applicants for doctoral degree studies must have master's degree and be under the age of 45.
---
Language Proficiency Criteria:
① Chinese Medium Program: Applicants should submit a score report of a recognized Chinese Proficiency Test. HSK level 5 or above (Note: HSK refers to Chinese Proficiency Test. You can find information on the website: www.chinesetest.cn) is required. If the applicant has no elementary Chinese study experience, he or she can pass HSK level 5 by attending Chinese Language Program for one academic year before the start of Academic study.
② English Medium Program: It is better if applicants can submit a score report of a recognized English Proficiency Test such as TOEFL (IBT 80), IELTS 6.0 or higher; or other official English test recognized by HZAU. Failing to demonstrate one's English proficiency may adversely affect one's candidacy for acceptance.
---
😇 So You Will Never Miss Any Opportunity for your excellency. Then hurry up to join, follow and like us on different Social Networks. 😇
---
Required Documents and How to Apply:
For Online Application Please visit the website: http://studyin.hzau.edu.cn/and apply online.
No 

Documents

1

The application form printed from Application System: http://studyin.hzau.edu.cn/.

2

Highest diploma or degree certificate; or an official Certificate of expected graduation for the ones still on campus

3

Official Transcripts

4

Two recommendation letters by professors/associate professors of correlated disciplines Download

5

Study Plan

6

Duplication of the Passport

7

Physical examination record

8

Other auxiliary supporting materials (such as: award certificates, academic papers published, English or Chinese Language Proficiency certificate, special skill certificate like dancing, sports, etc.)

9

An Acceptance Letter from a professor of HZAU Download

Notes:
①Original documents should be submitted. However, should they be unavailable, copies must be authorized by the issuing institution or notarized by a public notary. 
②Documents in languages other than Chinese or English must be attached with certified translations in Chinese or English. 
③Please submit the hardcopies of application required documents to the required postal address:

No.515, Students' Comprehensive Service Building, International College, Huazhong Agricultural University, No. 1, Shizishan Street, Hongshan District, Wuhan 430070, P.R.China

---

Application Deadline: June 30.
,Huazhong Agricultural University Presidential Scholarship 2019 Fully Funded, Huazhong Agricultural University, Huazhong Agricultural University Presidential Scholarship, Huazhong Agricultural University Presidential Scholarship 2019, 2019 Fully Funded Scholarship, Presidential scholarship, 2019 scholarships, , , , , , ,