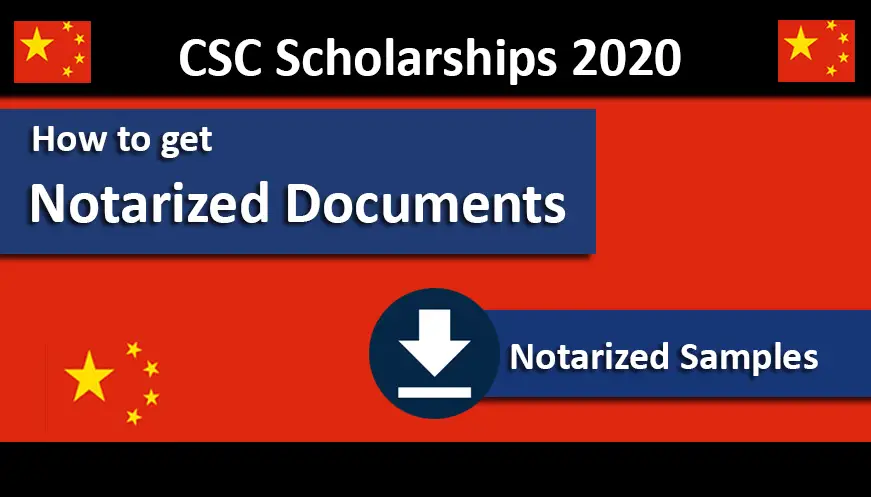 How to Notarized Documents for CSC Scholarships 2020 Process Under Chinese Government
How to Notarize Your Application Documents: ( You can find Notarized Samples end of Content)
Students need to Notarize documents (Degrees & Transcripts) for Apply in Chinese Universities under Chinese Government Scholarships CSC 2020. Most of students come across the problem of notarization for apply in China or Another Abroad Country. International Students don't know where or how to notarize documents and they don't understand why they have to notarize all the educational documents. So come to Point for Apply in China on self or scholarships, Every student have to notarize the documents. At this time we at China Admissions for CSC Scholarships, want to help you understand the process and the reason why you have to do it for China Universities Admissions.
What is document notarization?
Notarized document is the way for University to make sure that you are applying for admission with genuine documents. When you apply for admission mostly Universities will normally not return your application documents, So students shouldn't send their original documents to the University. Students should send a notarized documents set so the University can consider that they are genuine.
---
Do you need to notarise your documents?
If you are applying for the Chinese Government Scholarship 2020 You need to notarise your documents for China Universities. Normally the University will tell you if it is necessary and which documents are to be notarized..
Note: If you need to send your documents in a hard copy format by mail to the University you will need to get them notarized first and then forward to university. If you are submitting them online normally you won't need to get them notarised, you just need to upload scan copy of your orgional documents, but if they required notarized scan copy then you need to notarized and upload. Best Solution is Students should notarized the document before apply in China.
If you have translated your documents from another language into English or Chinese then you will usually need to provide a notarised translation.
---
Which documents do you have to notarize?
The list of documents you need to notarise are:
 Academic Transcript.

 Graduation Certificate.

 Translated documents.
---
Is it free to notarize documents?
No its not free. Each notary office charges fee for their services. If you are from Pakistan, You need to Pay 20-30 Rupees Per Documents to Notary Public Office (lawyer). Other countries have different charges.
---
😇 So You Will Never Miss Any Opportunity for your excellency. Then hurry up to join, follow and like us on different Social Networks. 😇
---
Where can you notarize documents?
Usually students will need to get notarized in the country that he/she graduated from. For example if student is  graduated from a Pakistani University, its better to get the notarization done from Pakistani Notary Public Office. It will be hard to do that in other countries around the world.
Mostly Notary Public Office are located in Courts or Law Firm in your area, Or You can ask any lawyer about Notary Public Office for Attestation and Notarization. Another option is to search online for a "Notary Public" with your city name.
Example: If you are from Pakistan, You just need to go court area, you can find Notary Public Office there and You can easily Notarized Your Documents 20-30 R.S Per Document, Other countries students can also find Notary Public Office in their Area by Online Search or Visit Near Court or Lawyer office.
Students from graduated from Europe can contact the University that he/she graduated from direct and they can sometimes help you to notarise it. Most of universities can provide the notarization for you, especially in the UK.
Download Here: Click Here - Notarized Transcript Sample
Download Here: Click Here - Notarized Degree Sample
---
You can also find Complete CSC Scholarships Process: Click Here
,How to Notarized Documents for CSC Scholarships 2020, Notarized Documents Samples for CSC Scholarships 2020, Notarzied Degree Samples for CSC 2020-2021, Notarzied Transcripts for csc process 2020, csc scholarships 2020 process, Chinese Scholarships Council (CSC) 2020, csc china government scholarships 2019-2020-2020, CSC 2020-2021 Chinese Government Scholarships Process 2020-2021