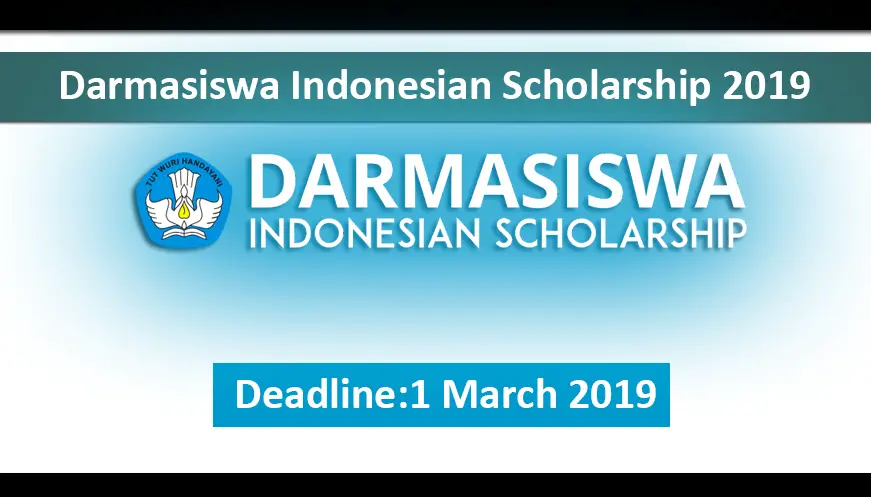 Applications are invited to apply for the Darmasiswa Indonesian Scholarship 2019. Darmasiswa Scholarship is an Indonesian Scholarship by Ministry of Education & Culture. The Scholarship is offered by the Government of Indonesia to all International Students.
The aim of the Indonesia Scholarship Program is to promote and increase the interest in the language, art, and culture of Indonesia among the youth of other countries. The Darmasiswa Indonesian Scholarship Program 2019 is offered to all foreign students from countries which have diplomatic relationship with Indonesia to study Indonesian language (Bahasa Indonesia), art and culture in 71 universities in 2019.
Darmasiswa Scholarship Benefits:
The monthly stipend will be divided into 2 groups of area: Area 1 Rp. 2.950.000,- (Batam, Jakarta, Bandung, Surabaya, Denpasar, Makassar, Manado, Bogor, Cikarang, Ambon), Area 2 Rp. 2.550.000,- (Aceh, Padang, Palembang, Purwokerto, Semarang, Yogyakarta, Surakarta, Malang, Samarinda)
Students will be provided with accommodation and transportation during the Orientation Program if time arrival in time with the schedule from the Ministry of Education and Culture.

Students will get a settlement allowance when attending the Orientation Program.

Students legal permit arrangement with the help of the Host University will be supported by the Ministry of Education and Culture.

Students may seek assistance from Host University in finding a house/room to rent which is included in the monthly stipend.
---
Eligibility Criteria:
Preferably Student

Completed secondary education or its equivalent

Minimum age 17 years and Not older than 35 years of age

Able to communicate in English and additional Bahasa Indonesia, Proven by English Language Proficiency Certificate: TOEFL/TOEIC/IELTS or Other Certificate if applicable(TOEFL/TOEIC/IELTS is not mandatory)

In good health as proven by Medical Certificate (medical checkup result)

Unmarried

Have basic knowledge of the field you're applying.
---
😇 So You Will Never Miss Any Opportunity for your excellency. Then hurry up to join, follow and like us on different Social Networks. 😇
---
Documents Required to Apply:
Curriculum vitae/resume (in English)

Medical certificate (in English)

A valid passport – Minimum 2 years expiration date

Recommendation Letter From Education Institution / Professional Institution on official letterhead and signature (in English)

Last academic transcript and certificates (in English)

English Language certificate (if applicable)

Other certificates that related to the field you're applying (if applicable)

Writing an essay about the purpose of study (in English or Bahasa Indonesia maximum 500 words).
---
How to Apply:
Applicants are required to register and submit all documents in Darmasiswa RI official website. The Link of the website is Given below.
---
Deadline: 1st March 2019
---
,Darmasiswa Indonesian Scholarship 2019, Darmasiswa, Darmasiswa Scholarship, Indonesian Scholarship, Indonesia Scholarship Program of language art and culture of Indonesia, Scholarship 2019, , , , , , ,