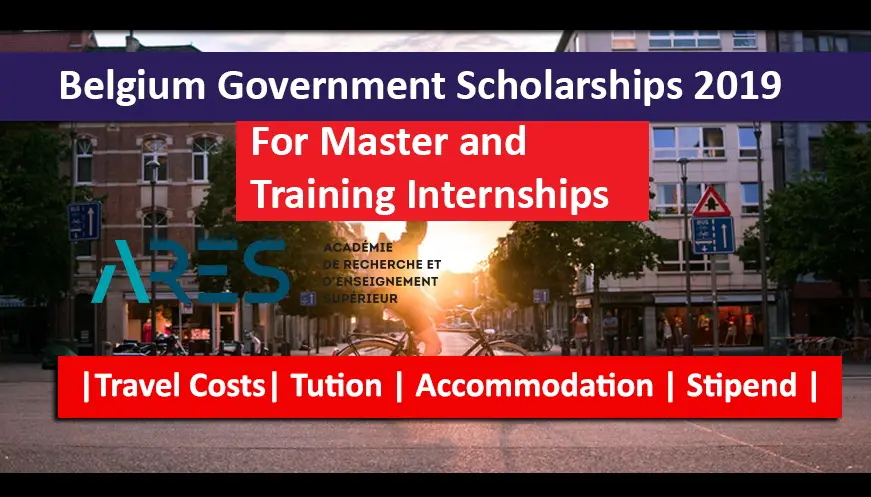 The call for applications for the academic year 2019-2020 is open .
Deadline for submission of applications: January 11, 2019 and February 8, 2019
It support the organization of specialization masters and development courses focused on "development" and value research in support of development policies, in partnership with the Belgian Cooperation.
Are You from a developing country? ARES Offer Masters Degree & also Training Internship of 4 to 6 Month in Belgium to develop Your skills. Belgium Government Scholarships is a Fully Funded Scholarship & will cover all the expenses to study in Belgium.
A great Chance for free study in Belgium for international students. Each year, ARES awards an average of 150 scholarships for masters and 70 scholarships for internships. The Medium of Language will be English & French.
---
Fields of Study for Masters
---
Scholarship Award:
| | | |
| --- | --- | --- |
| International travel costs | Receipts must be provided | Economy-class travel on an IATA-approved airline, with a maximum of one round-trip ticket per academic year. |
| Living allowance | Flat rate | 1150 €/month for a duration of 12 months. |
| Indirect mission fees | Flat rate | 150 €. This amount is given once per stay, upon arrival of the grantee. |
| Arrival allowance, tuition and return fees | Flat rate | 700 €. This amount is given once per stay, upon arrival of the grantee. |
| Registration fees |   | At the current rate for DGD grantees. |
| Insurance fees |   | Directly paid by ARES. |
| Travel costs that are part of inter-university training | Receipts must be provided | Reimbursed based on real costs incurred, with receipts provided. |
😇 So You Will Never Miss Any Opportunity for your excellency. Then hurry up to join, follow and like us on different Social Networks. 😇
---
---
Eligibility Criteria:
Applying for an ARES grant is totally free. ARES does not charge fees at any stage of the application nor selection process. You may inform us via e-mail at [email protected] of any problems with individuals or companies who claim to represent ARES and request any payment.
Any application form containing payment will systematically be rejected.
For a request to be valid, the applicant must:
Be a citizen of a developing country. To be eligible, applicants must be residing and working in their country of origin when they apply;

Be under the age of 40 for degree programs, and under 45 for training courses, at the time the training is scheduled to begin;

Have earned a diploma comparable to a graduate-level diploma from Belgian university studies. Nevertheless, for certain training courses, different requirements may be requested, which will be specified below;

Possess relevant professional experience in a developing country of at least two years after graduate studies, or of three years after their studies if the applicant has earned a post-grad degree from a university in an industrialized country;

Have good mastery of written and spoken French. For training courses held in another language, it is essential to have a proper level in the course's language, both written and spoken. We shall insist that the applicant commit to learning French in order to take part in daily life in Belgium;

Apply for only one training course.
---
How to Apply:
Download the   Application Form  given below.
---
Deadline:
The Deadlines to Apply for the Belgium Government Scholarships 2019 are 11th January 2019 & 8th February 2019
,scholarship 2019, belgium scholarship, Belgium government scholarship 2019, scholarships 2019 2020, master scholarship, master scholarships 2019, internship scholarships, internship opportunities in belgium, , , , , , ,