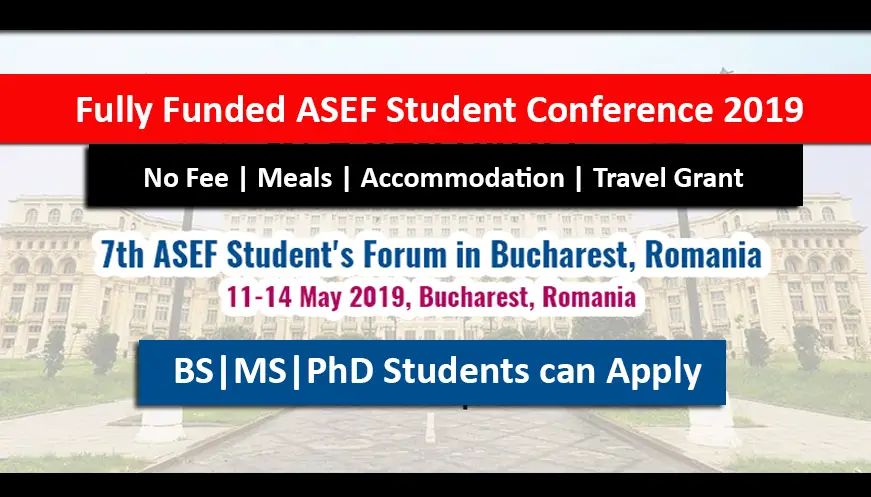 The 7th ASEF Rectors' Conference and Student's Forum (ARC7) is co-organised by the Asia-Europe Foundation (ASEF) and the National University of Political Studies and Public Administration (SNSPA), between 11-14 May 2018 in Bucharest, Romania.
This conference will cover All Cost of Airfare Flight Tickets, Meals & Accommodation and it is fully funded.
Asia Europe Foundation Student Conference (ASEF) is aiming to invite students from different universities to a single platform, where they can discuss issues related Higher Education and shape a better education prospect in Asia and Europe.All the Asian and Europeans students are Eligible to Apply for Asia Europe Foundation Conference. Candidates with any Academic Discipline are eligible to apply. Organizers of the conference will be responsible for your accommodation, meals and as well as a travel subsidy from your country to Romania and back.
This is a very Good opportunity for Asian and European students. This conference will bring a positive change in your your life, its a great Opportunity to build leadership qualities. Male/Female both are encouraged to Apply for 7th Asia Europe Foundation Student Conference (ASEF).
---
Country of Conference: Bucharest, Romania
---
Cost: Fully Funded
---
Eligible Countries: Asian & European countries students are eligible to apply
---
Dates: 11-14 May 2019
---
Why you should attend?
Join the convention of about 200 university leaders, senior government officials and student leaders from 51 Asian and European countries.
---
7th Asia Europe Student Conference Fully Funded:
The event is fully funded.

There is no participation fee. 

The organisers will provide participants with travel subsidy from your country of residence to the starting point and back.

The organisers will provide participants with meals and accommodation.
---
Eligibility Criteria:
Are you a student engaged in student life and managing student associations? Do you care about a better future for all? Then you are eligible to apply
University students from all levels (undergraduate, graduate, doctoral)

Individuals with a strong command of English (verbal and written).

If you are from one of the mentioned countries:
Pakistan, Australia, Austria, Bangladesh, Belgium, Brunei Darussalam, Bulgaria, Cambodia, China, Croatia, Cyprus, Czech Republic, Denmark, Estonia, Finland, France, Germany, Greece, Hungary, India, Indonesia, Ireland, Italy, Japan, Kazakhstan, Korea, Lao PDR, Latvia, Lithuania, Luxembourg, Malaysia, Malta, Mongolia, Myanmar, Netherlands, New Zealand, Norway, Philippines, Poland, Portugal, Romania, Russian Federation, Singapore, Slovakia, Slovenia, Spain, Sweden, Switzerland, Thailand, United Kingdom, Viet Nam.
You are eligible to apply.
---
How to Apply:
Apply online through the link given below.
😇 So You Will Never Miss Any Opportunity for your excellency. Then hurry up to join, follow and like us on different Social Networks. 😇
---
---
For any Queries:
Please send your inquiries to [email protected].
---

Deadline:
Applications will be accepted until Thursday, 29 November 2018, 11:30 GMT.
,ARC7, 7th Asian Europe Student Conference, 7th ASEF Rectors Conference and Students Forum (ARC7), Fully Funded Conference, Bucharest, Romania, ARC7 Fully Funded, ARC7 STUDENTS FORUM, Bucharest, Romania Fully Funded Conference, Bachelor Master PhD conferences fully funded, , , , , , ,