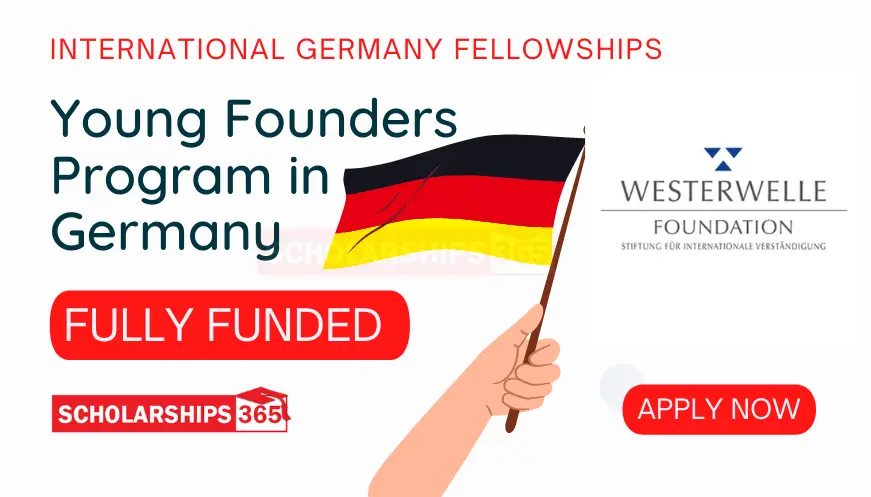 The applications for Westerwelle Young Founders Program 2022 is one of the famous fellowships in Germany that enable the young blood to participate in international young entrepreneurship by creating equal opportunities for the global market. It is a fully-funded fellowship program for International students from all over the world. This international Germany fellowship program invited world young leaders to one place to achieve entrepreneurial greatness.
You can also apply for Azerbaijan Government Scholarships 2022 | Fully Funded - HERE
Young Founders Programme in Germany 2022 | Fully Funded
The Westerwelle Young Founders Program 2022 helps to stimulate successful businesspeople in growing markets by providing equal chances to all. This Young Fellowship Program in Germany is one of the famous international fellowship programs that connect together leaders from everywhere in the world.
The worldwide leadership program in Berlin brings together exceptional young entrepreneurs in their quest for business success. Furthermore, the programming offers the opportunity to past fellowship alumni to learn about their successful business practices in emerging countries
Mentorship, peer learning, a buddy program, a Berlin conference, and expert sessions are all part of the 6-month Westerwelle international stipend. All of them are necessary if you wish to carve out your own distinct niche in the expanding marketplaces. The best thing about this fully-funded fellowship is that it matches participants with a business person or investor who will act as their sparring partner, giving them a one-of-a-kind experience. Aside from that, participants engage with others and get access to new business prospects. Furthermore, the Westerwelle fellowship in Germany provides expert sessions in which participants learn in-depth about their chosen fields from global professionals.
---
Have you applied for US Government Scholarships 2022 Fully Funded - HERE
---
The fully supported global fellowship invites entrepreneurs with the potential to become leaders of a better future and an influential business concept. Such leading countries will be considered to contribute to the formation of newly emerging and developing markets. The Westerwelle Foundation is always delighted to assist in expanding possibilities for individuals all around the world. The Westerwelle Young Founders Autumn 2022 is one of the Foundation's pledges to improve global understanding and strengthen the foundations of an economic system and tolerance.
As the Westerwelle Foundation's nationwide fellowship program is focused on the connection of economic prosperity, it eventually empowers the leadership skills of young leaders. Plus, participants will get the opportunity to develop a middle-class socioeconomic model and relate it to Germany's Mittlestand Among the Foundation's well-known world-class partners are Evonik, Gi2, Google, Liquid Telecom, Oracle, Flat 6 Labs Tunis, and United International Hotspot, among others.
This is an opportunity for new potential leaders to acquire business methods from the Foundation's 10 top registrants to join a fully-funded Berlin Conference and network with the world's leading businessmen and mentors while living five days in Germany.
---
Have you read it? Fully Funded 5000+ Scholarships in Turkey for International Students 2022 - HERE
---
Host Country: Germany
---
Fellowship Center:  Westerwelle Young Founders Programme
---
Fellowship Offered: Funded by Westerwelle Foundation
---
No of Fellowships: Around 50 Fellowships are provided to international applicants.
---
Financial Coverage: Fully Funded
---
You can also apply for the following opportunities:
Have you read it?

Fully Funded Scholarship for International Students in UK 2022 - HERE

Have you read it?

Fully Funded Scholarship for International Students in Canada 2022 - HERE
Have you read it?

Fully Funded

Scholarship for International Students in Australia 2022 - HERE
😇 So You Will Never Miss Any Opportunity for your excellency. Then hurry up to join, follow and like us on different Social Networks. 😇
---
Benefits of the Young Founders Programme in Germany:
Are you ready to apply for Young Founders Fellowship 2022?
In the last week of September, the participants will attend a two-day digital Beat conference.

Members will get complete cooperation for six months, including a personal mentor, an alumni buddy, monthly peer mentoring sessions, monthly seminars, and networking opportunities.

Interactions with financiers and corporations.

The top 10 registrants will be welcomed to a five-day international conference in Germany, which will be entirely financed.

During the 5-day conference, attendees will have the chance to pitch to investors, network, and get insight into Germany's start-up environment
---
---
Eligibility Criteria for Young Founders Fellowship Program:
In order to qualify for a place for the Young Founders Fellowships program you will need to meet the following requirements:
The registrant must have launched a for-profit business within the current five years. The company's main objective must be on developing or emerging markets.

The startup must have a business strategy that is either producing optimal revenue or has obtained its first round of external investment.

The firm must have an impact and must improve market quality.

The candidates must be fluent in English.

During the fellowship, members must be obtainable for conferences and activities for 6 months.
---
What is the Deadline for the Young Founders Fellowships Program 2022?
The Application deadline for the Germany Fellowship program (Westerwelle Foundation Young Founders Program YFP)  is Sunday, 13 March 2022 at 11:59 p.m.
---
How to Apply for the Young Founders Fellowships Program

?
Candidates must apply online if required to be considered.

Applicants must have a pitch deck for their startup.

Candidates must submit accurate and fundamental financial data about their income and financing.

The applicant must have a Linkedin account and/or a curriculum vitae.

If candidates have any technical problems when applying you can contact at email [email protected] for further guidance and help.
· Answer all of the application's questions carefully, accurately, and comprehensively so that they may be better understood.
,Fully Funded bachelors Scholarships 2019-2020-2021-2022-2023-2024, Fully Funded masters Scholarships 2019-2020-2021-2022-2023-2024, Fully Funded masters Scholarships School 2019-2020-2021-2022-2023-2024, Fully Funded phd Scholarships School 2019-2020-2021-2022-2023-2024, Opportunities Corners, Scholarships Corners, scholarships for college - Austrian government scholarships 2020-2021, CGS CSC STUDY CHINA, FORIGN STUDENTS , TOP UNIVERSITY, HIT, HARIB, TSINGUHA, CHINA, scholarships for college students 2019-2020-2021-2022-2023-2024