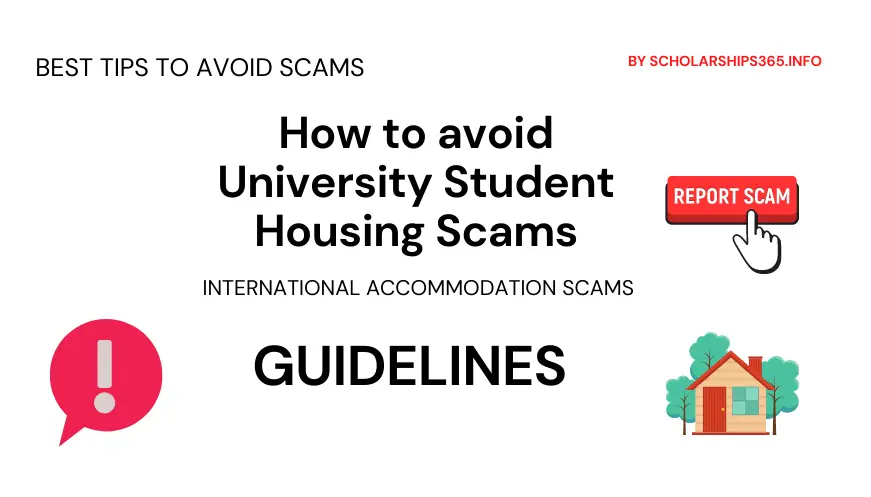 Going back to school for the academic session can feel like an unending to-do list, from having to register for courses to finding a place to live. It's easy to become overwhelmed by paperwork, fees, and deadlines. And it's on this that fraudsters and scammers rely upon to carry out their schemes.
You can also check the Top 10 Best UK Universities - HERE
Rental scammers use a variety of methods to approach their victims, and it appears that the only way to prevent being a victim of one of these frauds is to avoid them entirely.
So, how do you go about doing that? A good starting step is learning what different types of housing scam is.
Scams to look out for While Searching for Your Student Accommodation
Phantom Rentals
This type of scam is becoming widely prevalent because of its novel approach.
For example, You're looking for 2 bedroom student accommodation in Nottingham. You start looking for advertisements and you come across many. This includes an advertisement for a location that does not exist or is not available for rent. Their objective is to obtain your funds before you become aware of the situation. A compelling reason to inspect before signing!
Hijacked Ads
A phony landlord creates an ad for a real place with fictitious contact details.
Look for the proprietor and the advertisement. If the same ad appears under a new name, it's a red flag that it's a fraud.
Already Rented
An advertisement is used by a landowner to receive deposits or application fees for a property that has already been rented. As a starting point for your review, always search the address of a house. It might be beneficial. And the last thing you want is to arrive on move-in day to discover that someone else has already taken up residence!
Amenities Not Provided
An advertisement for a genuine location that lists benefits that it does not have in the place is a trending scam nowadays. To avoid this scam, inspect this unit personally to detect any wrongdoings. If you are unable to inspect a unit personally, ask someone you know to do so on your behalf and check that it contains everything that was described.
So always check up for the amenities that are listed in the advertisement, student apartments in Sheffield provide a very clear set of amenities in their advertisements.
Cheque fraud
In this scenario, you'd be advertising the possibility of subletting your room. A fraudster might contact you via mail, pretending to be abroad or unable to meet face to face due to some unforeseen circumstance.
When you ask them to give you rent, they'll usually send you a cheque for more than you require, usually by putting a zero at the end of the number. When you inform them about the mistake, they'll advise you to cash it anyway so you can pay your rent, and then tell you to transfer the rest of the money.
You'll discover in just a few days that the check bounced, and you'll be losing a significant amount of money.
How to Keep Clear from Housing Scams
Even the most diligent tenants might be duped these days since some fake rental advertisements appear to be entirely real. Researching, insisting on information being verified, and following your instinct are all smart strategies to ensure your safety.
1)  If at all feasible, pay a visit to the property. If you are unable to visit, have someone on your behalf.
If none of these options is accessible, most respectable property management businesses provide virtual tours on their sites. Birmingham university student accommodation is one such good example that provides virtual tours of their property.
2)  Check to see who owns the house. Examine city or local records if you're dealing with somebody who purports to own a home, but things don't seem right. This is a simple approach to find out who possesses assets and identify if a fraudster is posing as a proprietor.
😇 So You Will Never Miss Any Opportunity for your excellency. Then hurry up to join, follow and like us on different Social Networks. 😇
---
3)  Making payment in cash, bitcoin, or wire transfer is not a good idea. Fraudsters adore these transactions because they're almost impossible to track. They can completely vanish with your payment once you've paid them without creating a paper trail.
For online rental payments, reputable owners and property management firms will take cheques, cashier's checks, or credit/debit payments.
4)  Be cautious about revealing personal details. If you give a fraudster your full name, address, credit card number, birth date, you've probably just given them pretty much everything else they'd need to steal your identity.
Now, you now have a better understanding of how to detect and avoid a housing scam.
What should you do if you've been scammed?
It's usually preferable to avoid a scam than to try to recover from one after it has occurred.
However, if you have been duped, there are a few things you should do:
1) Report it to the authorities.
2) Another alternative is to get advice from your university's counseling center. This enables learners to connect for free with a paralegal and a staff attorney.
3) Inform your friends and family
Conclusion
While students at local institutions may have the option of living at home, many are either relocating out of state or considering it. Many people will have no expertise hunting for a decent housing offer, thus this will be an issue for them. Tragically, many con artists use this lack of expertise as a chance to take advantage of inexperienced students. We trust that this guide may assist you in avoiding these con artists.
How can Amberstudent help you?
AmberStudent serves millions of students worldwide by providing the best options and rewarding experience for booking a house. We are upgraded with the latest COVID protocols and would be more than happy to assist you in booking your ideal home. Tune in to our Facebook and Instagram to stay updated.
Author's Bio:
Anannya Chaudhary is a content writer living in Delhi. As soon as the clock strikes the completion of the last working minute of the office hours, you can find her on the way to her favourite food joint, brimming with excitement to devour a plate of chicken momos. When going gets tough, you will find her falling back to her old and trustee companion, 'The Diary of a Wimpy Kid' to reboot. You could classify her as that one designated annoying friend who makes you cry if you resist her dragging you to the dance floor.
,Fully Funded bachelors Scholarships 2019-2020-2021-2022-2023-2024, Fully Funded masters Scholarships 2019-2020-2021-2022-2023-2024, Fully Funded masters Scholarships School 2019-2020-2021-2022-2023-2024, Fully Funded phd Scholarships School 2019-2020-2021-2022-2023-2024, Opportunities Corners, Scholarships Corners, scholarships for college - Austrian government scholarships 2020-2021, CGS CSC STUDY CHINA, FORIGN STUDENTS , TOP UNIVERSITY, HIT, HARIB, TSINGUHA, CHINA, scholarships for college students 2019-2020-2021-2022-2023-2024