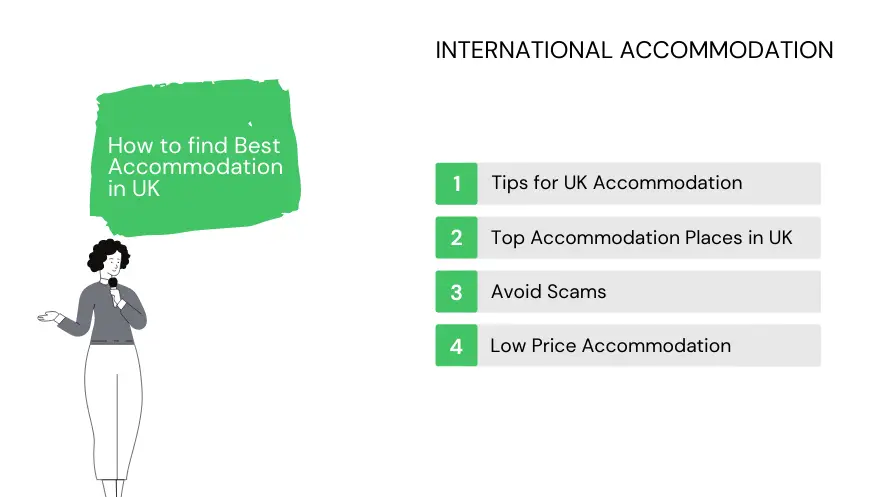 How to find the best International Student Accommodation in UK? Finding a place to live might be one of the most difficult aspects of relocating abroad. If you want to get the best combination of location, price, and fantastic flatmates, you should start looking as soon as possible.
You can also check the Top 10 Best UK Universities - HERE
However, with all of the steps involved in applying to universities and purchasing plane tickets, finding a place to stay can sometimes go to the bottom of your priority list.
Don't worry; even if you wait until the last minute to hunt for student housing, and there are still plenty of options available.
The following are the most frequent forms of accommodation for overseas students in the United Kingdom
    University dorms

    Private dorms

    Apartments

    Private housing
Cost
The average cost of residing in the UK varies greatly. Even within the same city, the cost that you acquire for lodging might differ. As an international student, you understandably want to save as much money as possible. Knowing that rent is the most expensive item you'll buy while studying abroad, locating economical housing will relieve you of a significant financial strain.
However, in order to get the best deal on student housing in the UK, you must first make some adjustments. Otherwise, if you don't want your rent to be too expensive, you must tailor your tastes to your financial capabilities.
London is the biggest and most costly city in the United Kingdom. The cost of living in the city center is higher than in the suburbs, which is a frequent feature of large cities. If your university's campus is near downtown regions, you should avoid looking for an apartment in the surrounding neighborhood.
😇 So You Will Never Miss Any Opportunity for your excellency. Then hurry up to join, follow and like us on different Social Networks. 😇
---
Location
As one might assume, rent prices in urban areas are greater than in rural areas of the United Kingdom. However, there are still economic solutions for international students, even in cities, which may be easily obtained with little planning.
Renting an inexpensive apartment in the city is nearly impossible. Rents in the periphery, on the other hand, are lower. They are quieter, safer, and less overloaded, with minor drawbacks such as distance from the city core.
You may have to commute to class every day, but the total cost of your bus ticket will not be equal to the rent you would pay if you lived in the city center. Furthermore, there are a variety of convenient modes of transportation available, such as the bicycle.
Does university help in accommodation?
The number of students going abroad to get a university degree is on the rise these days. Universities in the United Kingdom like Oxford University have increased the number of residence halls in Oxford University to accommodate as many overseas students as feasible. Unfortunately, there aren't enough places for everyone. These kids are also having trouble finding a place to reside.
To address this issue, institutions are working hard to develop bodies on campus that will assist incoming international students in finding a suitable place to stay. In the United Kingdom, the majority of universities already provide these services. After being accepted to a university, you can contact them directly and inquire if they provide such assistance. They can take care of everything before you even get to the United Kingdom.
Tips for finding good student accommodation in the UK:
Arrange everything before you arrive
As a student, you value punctuality above everything else. If you manage to have everything in order on time, you will be able to focus entirely on your academics, which should be your primary concern.
Though it may be difficult to plan your lodging from your home, it is much better if you develop a list of sources and bodies you will contact when you arrive in the UK to resolve your accommodation request.
Your university shall be your first port of call. Their international student office will either assist you or carry out your research on its own.
Tip: Always make sure you're getting information from reputable sources when doing online research. Unfortunately, there are scam websites out there that are trying to take advantage of you while causing you harm.
Collect information about the locality
The location of your lodging is really essential. Apart from the fact that it can influence the rent price to some extent, it will also provide additional benefits along the route.
It could be the distance from your college, for starters. Naturally, you should strive to locate an apartment that is as close to you as possible.
You can also check to determine if the downtown areas are easily accessible. If you travel to university on a daily basis, you'll want to select a neighborhood with bike lanes so you can drive securely. You can then look to see if there are any stores nearby.
Find roommates
If you have no other choice than to live in a private flat or studio apartment in London, we recommend that you share it with someone else. Whether in London or elsewhere in the UK, the cost of renting is too expensive for a student to bear on their own.
Do your research
Having a broad notion of where you want to reside in the city and what possibilities are accessible to you will help you solve this problem quickly.
Doing research is a simple effort nowadays. You may simply sit in your living room and begin surfing the web. There are numerous valuable resources available, including numerous housing-related websites in the United Kingdom.
You can look at the trend of rent costs to get a sense of where it might be less expensive and more convenient for you. You can also join online student forums where you can freely ask questions of students who have already gone through this.
Make sure that the housing includes all the amenities you require
Always check to see if an accommodation location has everything you require before choosing it over other possibilities. While price is crucial, you should strive to acquire the greatest bargain possible. You must not rent it if it lacks essential living standards.
How can Amber help you?
We at Amber serve millions of students around the world by providing the best-suited options for you and rewarding experiences because we apprehend its value. We are up to date with the most recent COVID-19 protocols and would be more than thrilled to help you in booking your ideal student accommodation that feels like a home away from home. Stay tuned in to our Facebook and Instagram pages for the latest offers and updates.
,best accommodation in uk, cheap accommodation in uk, how to avoid uk accommodation scam, student accommodation, free study abroad with accommodation, scholarships with free accommodation, scholarships in uk, uk scholarships