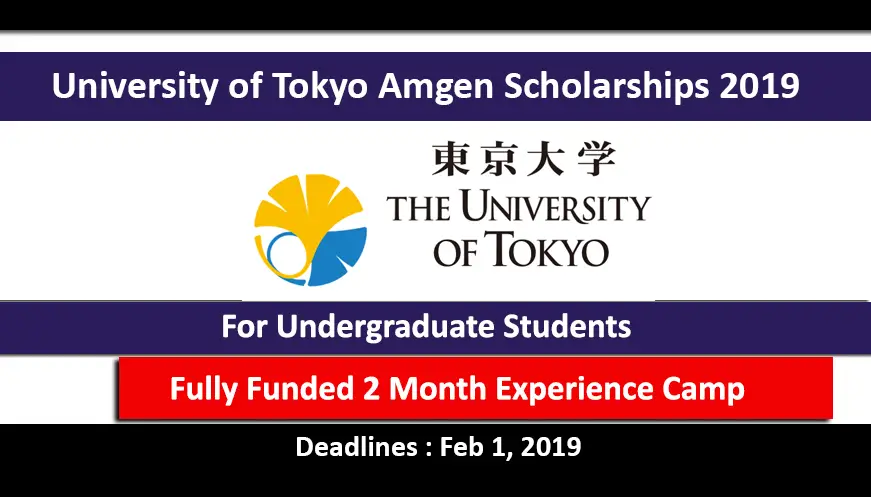 The objective of the program is to provide undergraduate students from different countries who are committed to or who are considering a career in biology or related sciences and looking to continue to graduate studies, with eight weeks of biomedical research experience in the basic and translational sciences. Research experiences are being provided by faculty members of the Graduate School of Science, Graduate School of Engineering, Graduate School of Pharmaceutical Sciences, Graduate School of Agricultural and Life Sciences, and the Institute of Industrial Science. By the end of their summer experience, students are expected to acquire knowledge and skills for conducting research.These experiences will help the students to develop future collaborations in many situations.
University: University of Tokyo
---
Duration: 2 Months ( June 10, 2019 - August 5, 2019 ) 
---
Cost: Fully Funded
---
Field of Study:
Biochemistry, Bioengineering, Biotechnology, Chemical and Biomolecular Engineering, Chemistry, Analytical Chemistry, Chemical and Biomolecular Engineering, Molecular, Cell and Developmental Biology, Molecular Medicine, Neurobiology, Bioinformatics, Molecular Genetics, Nueroscience, Tissue Engineering, MEMS/Microfluidics, Microbiology, Immunology, Pathology, Molecular, Cell and Developmental Biology, Physiological Science
---
Scholarship Covers:
ROOM: Near-campus accommodation

STIPENDS:
        Amount varies depending on the location of the university / college
that you currently belong to

Amount of Stipend

Asia / Oceania

350,000 JPY

Africa / Middle East

400,000 JPY

Europe

450,000 JPY

North, Central and South America

550,000 JPY

Japan

250,000 JPY
The stipend should be used freely for transportation fees including the airfares to Japan and to your own destination after the program, budget for food and any personal trips during your stay in Japan and so on
---
Eligibility Crriteria:
UTokyo Amgen Scholars Program applicants must be undergraduate students who are:
Enrolled in colleges or universities worldwide that award a bachelor's degree (or its equivalent); and
At the minimum, have completed their first year of undergraduate study at the time the summer program begins, and
Are not graduating before the summer program begins, and after the summer program ends will resume undergraduate studies for at least 1 semester or 1 quarter
---
Application Document Required to Apply:
Portrait photo
Scanned copy of Passport or ID card
Resume/CV and Cover letter. 

Download and complete the designated form below.

Please save your documents as a Word file (e.g. .doc/docx) 

https://www.u-tokyo.ac.jp/content/400101863.docx

Academic Transcript

Questionnaire. Comlpete the questionnaire 

https://www.u-tokyo.ac.jp/content/400101865.xlsx

Proof of your English proficiency

Letter of Reference. 

In the (online application system), you are required to nominate two people to provide letters of reference, one of who must be a faculty member at your current institution who is

 

familiar with your educational background, academic performance, and motivation for attending the 2019 Program.

---
How To Apply:
To apply, please apply online through the link given below
1. Click on "Create a New Account" first to make your own account and get your application number.
2. Fill out all the required field and upload files.
😇 So You Will Never Miss Any Opportunity for your excellency. Then hurry up to join, follow and like us on different Social Networks. 😇
---
---
Application Deadlne:
 February 1, 2019
,UTokyo, Amgen Scholars Program, biology Scholarships, Scholarships in Japan, biomedical research Scholarships, biomedical research for undergraduates, the University of Tokyo, the University of Tokyo Scholarships, the University of Tokyo scholarships 2019, the University of Tokyo Undergraduate Scholarships 2019, UTokyo Scholarships, Exchange Program 2019, Undergraduate Exchange Program for Pakistani Students, 2019 scholarships, , , , , , ,