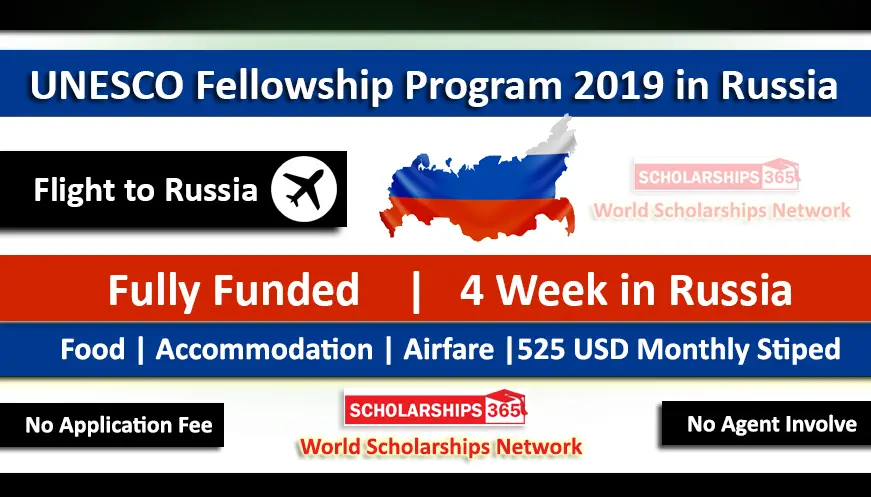 The  UNESCO/ISEDC Co-Sponsored Fellowships Program 2019 is an opportunity for exceptionally qualified international Students to enhance the capacity-building and human resources development in the area of sustainable and renewable energy sources in developing countries and countries in transition. UNESCO Fellowship Program 2019 is Fully Funded International Fellowship Program 2019 in Russia  For 4 Weeks. which invites Students from From Africa State, Arab States, Asia & Pacific, Latin America & the Carribean, Europe can Apply. UNESCO Fellowship 2019 is Fully Funded Internship that will Covered all the expenses during Fellowship by the UNESCO.
UNESCO Fellowship Programme 2019 is offer the capacity-building and human resources development  to students from diverse backgrounds & from different parts of the world.
Field of Study:
Energy and sustainable development;

Ecological management of energy resources;

Renewable energy;

Sustainable and renewable energy power generation.
It is Not Necessary to have a field knowlege .
UNESCO/ISEDC Encouraged students & Youth from Developing Countries for this Fellowship.
The program will Run from 30 September to 25 October 2019.
Students will be experiences to Field Trips, Cultural Activities and several aspects of UNESCO's work with relevance to understanding. The Fellowship includes fieldwork, lab work, lectures, and data workshops at different labs.The Fellowship Language medium will be English.
All Students with any type of academic discipline background is eligible to Apply. The students should not be more than 35 years at the time of Application.CGPA does not matter for this program. UNESCO Fellowship Program 2019 Will Cover all the Expenses of the students during the 4 Weeks of fellowship period including Flight Tickets etc.
😇 So You Will Never Miss Any Opportunity for your excellency. Then hurry up to join, follow and like us on different Social Networks. 😇
---
UNESCO Fellowship Program 2019 Offers:
    Country of Fellowship:

Russia

    Fellowship Duration: 30 Sep to 25 Oct 2019 ( 4 Weeks )
    Fellowship offered by: UNESCO (United Nations Educational, Scientific and Cultural Organization)

   

Cost of UNESCO Fellowship 2019: Fully Funded
---
UNESCO Fellowship Program 2019:
The aim of this fellowships programme is to enhance the capacity-building and human resources development in the area of sustainable and renewable energy sources in developing countries and countries in transition.

    The training activities in the framework of these fellowships are tenable in specialized institutions in the Russian Federation.

UNESCO will solicit applications from the developing countries and countries in transition.    

The candidates may choose to study in the following fields of study for the duration of 4 Weeks, which are aligned with UNESCO's objectives and programme priorities, as per approved 35 C/5 and in accordance with the decisions made by the Executive Board (161 EX/Decision 3.6.3 and 165 EX/Decision 8.6).
---
Financial Package Coverage:
UNESCO/ISEDC will cover all the Expenses. This is a free exchange programs 2019 by UNESCO/ISEDC.
The amount covered by UNESCO is Given below:
    Monthly Stipend: The Stipend Amounting to Five Hundred & Twenty Five (525) US dollars is intended to cover living expenses such as Accommodation, Meals, pocket expenses
    Airfare Tickets: UNESCO will Cover the Cost of Round Airfare Travel Tickets to/from Your Country

    Health Insurance Will be provided.
---
Eligibility Criteria:
The Eligibility Criteria of international student exchange programs 2019 is given below.
    A holder of at least a BSc Degree or BA in Economics

    Not more than 35 years of age

    Proficient in the English language

    Youth & Students from developing Countries are Strongly Encouraged.
---
List of Invited Member States: Eligible Countries
AFRICA (46 Member States)
Angola*, Benin*, Botswana, Burkina Faso*, Burundi*, Cameroon, Cape Verde*, Central African Republic*, Chad*, Comoros*, Congo, Côte d'Ivoire, Democratic Republic of the Congo*, Djibouti*, Equatorial Guinea*, Eritrea*, Ethiopia*, Gabon, Gambia*, Ghana, Guinea*, Guinea-Bissau*, Kenya, Lesotho*, Liberia*, Madagascar*, Malawi*, Mali*, Mauritius, Mozambique*, Namibia, Niger, Nigeria, Rwanda*, Sao Tome and Principe*, Senegal*, Seychelles, Sierra Leone*, Somalia*, South Africa, Eswatini, Togo*, Uganda*, United Republic of Tanzania*, Zambia*, and Zimbabwe
ARAB STATES (15 Member States)
Algeria, Bahrain, Egypt, Iraq, Jordan, Lebanon, Mauritania*, Morocco, Oman, Palestine, Saudi Arabia, Sudan*, Syrian Arab Republic, Tunisia, Yemen*
ASIA and THE PACIFIC (39 Member States)
Afghanistan*, Bangladesh*, Bhutan*, Cambodia*, China, Cook Islands, Federal States of Micronesia, Fiji, India, Indonesia, Iran (Islamic Republic of), Kazakhstan, Kiribati*, Kyrgyzstan, Lao People's Democratic Republic*, Malaysia, Maldives*, Marshall Islands, Mongolia, Myanmar*, Nauru, Nepal*, Niue, Pakistan, Palau, Papua New Guinea, Philippines, Samoa*, Solomon Islands*, Sri Lanka, Tajikistan, Thailand, Timor – Leste, Tonga, Turkmenistan, Tuvalu*, Uzbekistan, Vanuatu*, Viet Nam
LATIN AMERICA AND THE CARIBBEAN (32 Member States)
Antigua and Barbuda, Argentina, Barbados, Belize, Bolivia (plurinacional State of), Brazil, Chile, Colombia, Costa Rica, Cuba, Dominica, Dominican Republic, Ecuador, El Salvador, Grenada, Guatemala, Guyana, Haiti*, Honduras, Jamaica, Mexico, Nicaragua, Panama, Paraguay, Peru, Saint Kitts and Nevis, Saint Lucia, Saint Vincent and the Grenadines, Suriname, Trinidad and Tobago, Uruguay, Venezuela
EUROPE (22 Member States)
Albania, Armenia, Azerbaijan, Belarus, Bosnia and Herzegovina, Bulgaria, Croatia, Czech Republic, Estonia, Georgia, Hungary, Latvia, Lithuania, Poland, Montenegro, Republic of Moldova, Republic of Serbia, Romania, Slovak Republic, The former Yugolsav Republic of Macedonia, Turkey, and Ukraine
ASSOCIATE MEMBER STATE (1)
Tokelau
---
Application Deadline: The last date to Apply for the UNESCO Fellowship Program 2019 is 1st April 2019.
---
Procedure to Apply For International Exchange Program 2019 Under UNESCO:
You have to Fill the Form by Click on Apply Button and Download the form and fill it.

Details of the program is given in Scholarship Link Button for Further Procedure for Submission of Form.

Official Advertisement:

Check Here

---

                                                                                   Good Luck Everyone :)
,scholarships365, fellowships 2019, fellowships 2020, unesco fellowships 2019, unesco fellowships 2020, unesco fellowships 2021, latest fellowships 2019, latest fellowships 2020, international exchange program 2019, fully funded exchange programs 2019, fully funded fellowships 2019, internships 2019, internships 2020, Fellowships 2020-2021 Fully Funded, Fellowships 2020 Fully Funded, Fellowships 2021 Fully Funded, , , ,