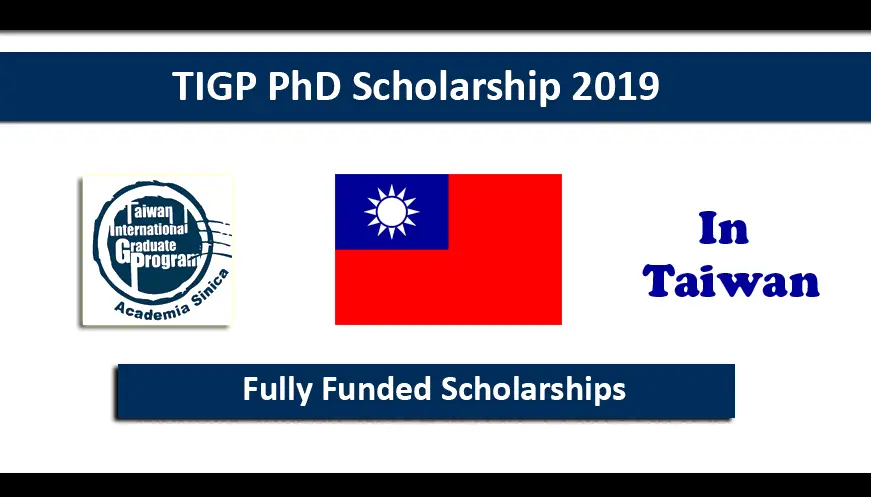 More than 100 Fully Funded TIGP PhD Fellowships  2019 in 12 Disciplines . Direct PhD after Bachelors degree is also possible 
Taiwan International Graduate Program (TIGP) is now accepting applications for admission to the 2019 fall semester, and applications are due before January 31, 2019.
TIGP offers the following twelve Ph.D. programs:
1. Chemical Biology and Molecular Biophysics (CBMB)
2. Molecular Science and Technology (MST)
3. Molecular and Biological Agricultural Sciences (MBAS)
4. Molecular and Cell Biology (MCB)
5. Bioinformatics 
6. Nano Science and Technology (NANO)
7. Molecular Medicine (MM)
8. Earth System Science (ESS)
9. Biodiversity
10. Interdisciplinary Neuroscience (INS)
11. Sustainable Chemical Science and Technology (SCST)
12. Social Networks and Human-Centered Computing (SNHCC)
For Program website Click here : Program Website
---
                                          No application fee is required. 
                        Applicants can apply online for admission to the program.
---
Scholarship Coverage:
TIGP candidates receive a stipend of NT$34,000/month (approx. USD 1,130) for the first year.

For students who perform well, this stipend will be extended for a further 2 to 3 years.

Post the stipend allowance period, further financial support is dependent upon individual thesis advisors.
---
Eligibility Criteria:
 please check out program's website for program-specific requirements.
Bachelor and/or Master of Science degree
English proficiency
GRE General test & Subject test (requirements vary by program)
Academic transcript for coursework completed post high school.
Three letters of reference.
Statement of purpose.
😇 So You Will Never Miss Any Opportunity for your excellency. Then hurry up to join, follow and like us on different Social Networks. 😇
---
How to Apply:
Please complete the application procedure via TIGP On-Line system before January 31, 2019:
                           http://db1x.sinica.edu.tw/tigp/index.php
                               (online application recommended)
For applicants who wish to apply by post, please send the completed application to:
Admissions Office
Taiwan International Graduate Program 
No. 128, Section 2, Academia Road, Nankang District,
Taipei City 11529, Taiwan, R. O. C.
---
Deadline: January 31, 2019.
,TIGP, Taiwan Scholarship 2019, TIGP PhD Fellowships, PhD scholarship 2019, Scholarship 2019, TIGP PhD Fellowships 2019 Fully Funded, Phd in Taiwan, , , , , , ,