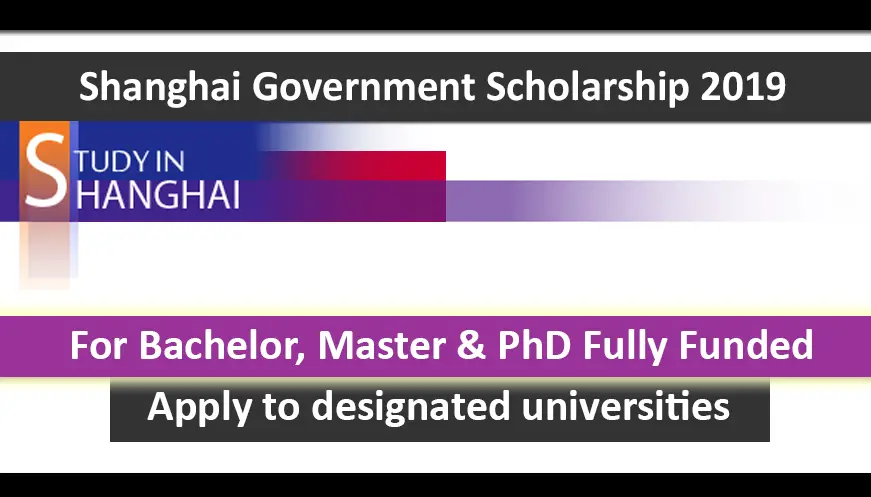 Shanghai Goverment Scholarship SGS is open for Bachelor, Master and PhD studies for international students in different universities of China. Applicants should apply as soon as possible. Details are given below:
"Try to Apply in more than 3 universities to improve chances of getting scholarship"
Scholarship Value:
i.The Shanghai Government Scholarships (SGS) is classified into A and B types.
ii.Coverage
Type A includes tuition, expenses for accommodation and living, and medical insurance;
Type B includes tuition and medical insurance.
iii.Standard (RMB/person/year)
Notes:
1. Classification 1 includes philosophy, economics, law, education, literature, history, management; Classification 2 includes science, engineering and agriculture; Classification 3 includes medicine and art.
2. International Students of pre-college programscan enjoy the scholarship with the undergraduate standard of Classification 1, which will be allocated to the Shanghai International Student Pre-college.
Funding period
Three years for doctoral students;
Two-three years for graduate program;
Four years for undergraduate program; five years for undergraduate program in medicine studies
One year for pre-college program
---
Universities Providing SGS:
Appendix
List ofShanghai universities recruiting SGS
1. Fudan University
2. Shanghai Jiao Tong University
3. Tongji University
4. East China Normal University
5. East China Universityof Science and Technology
6. Shanghai University of Finance and Economics
7. Donghua University
8. Shanghai International Studies University
9. Shanghai University
10. Shanghai Universityof Foreign Trade
11. Shanghai University of Engineering Science
12. East China Universityof Political Science and Law
13. Shanghai Maritime University
14. Shanghai Finance University
15. Shanghai Normal University
16. Shanghai Ocean University
17. Shanghai Universityof Sport
18. Shanghai Theatre Academy
19. Shanghai Conservatory of Music
20. Shanghai University of Traditional Chinese Medicine
21. Shanghai Universityof Electric Power
22. Universityof Shanghai for Science and Technology
23. Shanghai Lixin University of Commerce
24. Shanghai Institute of Technology
25. Shanghai Dian Ji University
26. Shanghai Polytechnic University
27. Shanghai University of Political Science and Law
28. NYU Shanghai
29. Shanghai Business School
30. Sanda University
31. Shanghai Jian Qiao University
32. Shanghai Jiao Tong UniversitySchool of Medicine
33. China Europe International Business School
34. Shanghai Institute of Health Sciences
---
😇 So You Will Never Miss Any Opportunity for your excellency. Then hurry up to join, follow and like us on different Social Networks. 😇
---
Eligibility Criteria:
i.Age and education background
Students applying for the undergraduate programs, should obtain a high school degree or above and be no more than 25 years old; for the graduate programs, students should have a bachelor or above degree and be no more than 35 years old; for the PhD programs, students should have a master degree or above with academic research ability, and be no more than 40 years old. Students applying for the pre-college program should obtain a high school degree under the age of 23 years old, with a letter of pre-admission of undergraduate program by a Shanghai university.
ii.Language proficiency
If the program applicant has selected is in English language, English language proficiency from your university will work. Generally, applicants should achieve a Chinese level of HSK4 for courses taught in Chinese and meet the language requirement of the university applied to join.
iii. Students that have won the Chinese Government Scholarship or any scholarship offered by other organizations are not entitled to apply SGS.
---
How to Apply:
Students can log onto the Study in Shanghai website, (http://study.shmec.gov.cn), which provides information on universities, courses, application periods and procedures. Students can apply for the scholarship on the website.
Students need to check their selected university Website to check university application procedure and deadline. If university requires to fill application online then applicant need to fill that online application and follow the procedure according to university.
---
,Shanghai Government Scholarship SGS 2019, Donghua University Shanghai Government Scholarship 2019, CSC 2019, Universities under CSC scholarship, Donghua university Shanghai Government Scholarship, scholarship Shanghai Government Scholarship, scholarship Donghua university, Shanghai Government Scholarship Donghua china, scholarships, csc china 2019, csc 2019, master scholarships 2019, PhD scholarships 2019, Donghua university china, Top University, Donghua University Shanghai Government Scholarship, Shanghai Government Scholarship 2019, SGS, SGS 2019, Donghua Government Scholarship 2019 sgs, List of Shanghai universities recruiting SGS , , , , , , ,