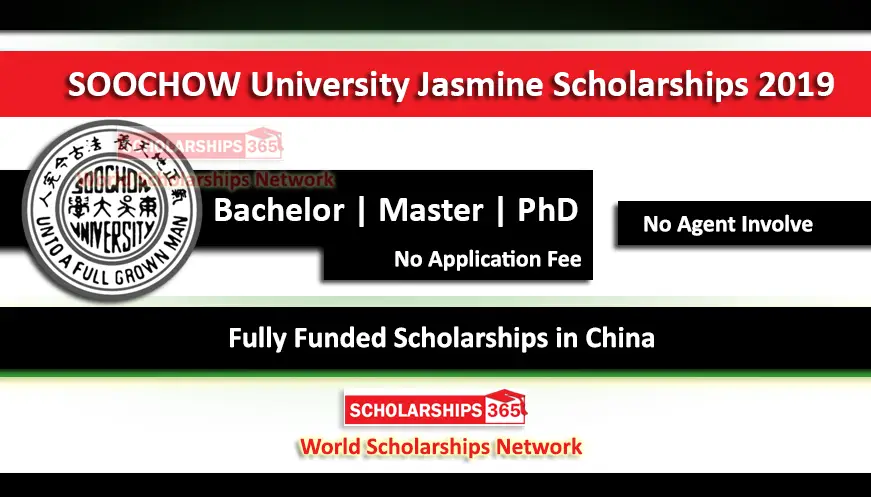 In order to further promote the development of education for foreign students in Jiangsu Province, enhance the international appeal of Jiangsu higher education, build the "Learning in Jiangsu" brand, and build Jiangsu into a major target province for foreigners to study in China. The Jiangsu Provincial Government has decided to establish "Jiangsu Province". Provincial Government Jasmine Scholarship." The scholarship is mainly used to fund outstanding foreign students and scholars to go to Jiangsu's colleges and universities to receive full-time academic education, as well as foreign students studying and exchanged in Jiangsu universities through friendly provincial and state framework agreements.
Applicant category:
1. Excellent foreign students who apply directly to overseas undergraduate colleges and colleges for degree courses in overseas universities;
2. According to the friendly province and state framework agreement, apply for foreign students who come to Jiangsu universities for further study and exchange study.
Scholarship Value:
(1) Full scholarship include:
1. Registration fee, tuition fee, experiment fee, internship fee, basic textbook fee.
Scholarship students are required to conduct experiments or internships beyond the school's teaching plan, and they are responsible for their own expenses. The basic textbook fee refers to the materials necessary for the school's designated course of study, and other books and materials are self-care.
2. Free on-campus housing, or subsidy of 10,000 yuan / year.
3. Basic living expenses subsidy, RMB 1,500/month per person.
If the scholarship student is enrolled in the school before the 15th (including 15th) of the month, the scholarship fee for the full-month scholarship will be paid; after 15 days, the student will be paid a half-month scholarship fee.
4. Comprehensive medical insurance for international students in China.
(2) Part of the scholarship
1. Specialist students: 20,000 yuan, funding period: 1 academic year
2. Undergraduate/Graduate: 30,000 yuan, funding period: 1 academic year
3. Advanced students/exchange students: 2000 yuan/month, funding period: 3-12 months (performed according to the framework agreement)
---
Eligibility Criteria:
1. Citizens holding foreign nationality; 
2. Applicant's academic qualifications and age requirements:
Those who apply for specialties and undergraduate studies must graduate from high school and generally do not exceed 30 years of age;
Applicants for a master's degree must have a bachelor's degree and are generally under 35 years of age;
Applicants for a doctoral degree must have obtained a master's degree and are generally not more than 40 years old;
Students who come to Jiangsu universities for further study and exchanges through the friendly provincial and state framework agreement shall be executed according to the signed agreement.
3. Comply with the laws and regulations of the Chinese government and meet the admission requirements of the applicant school; 
4. The attitude of learning is correct and the results are excellent; 
5. Not receiving various scholarships from the Chinese government or other organizations.
---
The Required materials:
1. A copy of the passport;
2. Notarized highest degree/degree certificate. If the applicant is a student at the school, you must submit a certificate of attendance issued by the school. Non-Chinese and English versions are required to be accompanied by a notarized Chinese or English translation;
3. Learning transcripts. Non-Chinese and English versions are required to be accompanied by a notarized Chinese or English translation;
4. Those who intend to pursue master's and doctoral degrees must submit two letters of recommendation, written and signed by professors or associate professors of graduate schools, written in Chinese or English;
5. Other application materials.
The application materials submitted by the applicant will not be returned. 
---
😇 So You Will Never Miss Any Opportunity for your excellency. Then hurry up to join, follow and like us on different Social Networks. 😇
---
The receiving department:
Applicants log on to "Study in Jiangsu" ( www.studyinjiangsu.org ) to apply, upload relevant materials as required, and mail the paper materials to the "Jasmine Study Center of Jiangsu Government Scholarship Review Committee".
---
The application steps (How to apply):
1. Login to the website: www.studyinjiangsu.org
2. Register a personal account
3. Fill in the online application form and upload relevant materials as required
4. Print the application form, sign it and mail it together with other application materials to the "Jasmine Study Center of Jiangsu Government Scholarship Review Committee" (please see "Contact Information" below)
---
Contact information:
Jasmine Study Abroad Jiangsu Government Scholarship Review Committee Office
Nanjing, Jiangsu, China
Room 1212, 15 West Beijing Road
Zip code: 210024
Phone: +86-25-83335332
Fax: +86-25-83335521
---
Application Deadline:
Every year from April 1 to June 30
,Jiangsu Provincial Government, SOOCHOW University Jasmine Scholarship in China 2019, SOOCHOW University Jasmine Scholarship, SOOCHOW University, Jasmine Scholarship in China 2019, China 2019, Jasmine Jiangsu Provincial Government, Undergraduate studies, Bachelor studies on scholarship in China, , , , , , ,