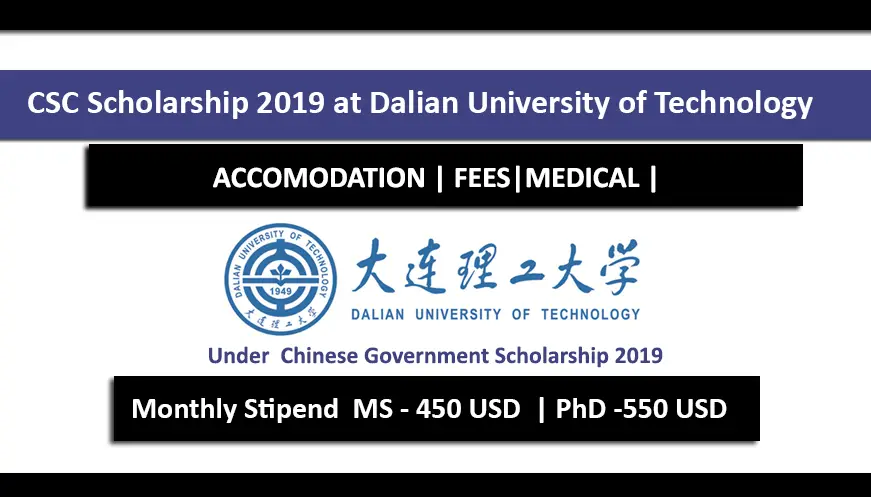 Dalian University of Technology (DUT):
DUT is a national key university under the direct leadership of ministry of education of China. It also is one of the " 211 project" and "985 project" key universities. DUT aims at cultivating talents, promoting the science and technology development, inheriting the long-last tradition and leading the innovative trend. DUT enjoys a good reputation for its rigid management and its good environment for study. It is known for the motto: "Unity, Enterprise, Realism and Originality". DUT has fostered and trained millions of elites in various professions, who are widely welcomed throughout the society.
Chinese Government Scholarship (CSC):
This scholarship is only for the international students who would like to complete master or Ph.D. degree programs at our university.
It does not include majors in arts and literature other than in Chinese. The DUT scholarship only supports graduate programs where the duration for the master's students is three years and four years for the doctoral programs.
---
Scholarship Award:
CSC Scholarship Offer:
Exempt from tuition and CSC provide accommodation on campus;

Monthly allowance is offered as followings:

* Master Degree Students: 3,000 CNY/month

* Doctor Degree Students: 3,500 CNY/month

Scholarship students shall receive their monthly living allowance after registration. New students who register before 15th (15th included) of the registration month will get the full amount of living allowance of that month, and those who register after 15th will get half amount of that month.

Comprehensive Medical Insurance and Protection Program for International Students in China

Scholarship students who missed the monthly living allowance during holidays could be reimbursed upon their return on campus. The allowance will be suspended for at least one month for those students who do not register on time without permission from the university, leave for non-health reasons or are absent from university over a month.

Students who have to suspend their studies for pregnancy or for health reasons are required to go back to their home countries for labor or for treatment. The international travel expenses should be covered by the students themselves. With the university's approval, the scholarship status can be reserved for up to one year and their living allowances will be suspended during their leave. The scholarship status will not be reserved for those who suspend their studies for other reasons.
---
Eligiblity Criteria:
Applicants must be non-Chinese citizens in good health.

Applicants must be healthy both physically and mentally, excellent in academic standing and with good conduct.

Applicants must be students who study in foreign countries.

Education background and age limit:

- Applicants for master degree programs must have bachelor's degree and be under the age of 35.

- Applicants for doctor degree programs must have master's degree and be under the age of 40.

Applicants should fill out the application form correctly, honestly, completely, and submit application materials as required.
---
😇 So You Will Never Miss Any Opportunity for your excellency. Then hurry up to join, follow and like us on different Social Networks. 😇
Application Documents Required for apply:
The applicants shall submit the application forms and materials to School of International Education, DUT from December to end of March, 2019.
The applicants must fill in and provide the following materials truly and correctly (in duplicate):
---
1. Application Form for Chinese Government Scholarship
The applicants for Chinese Government Scholarship should fill in the online application and print the application form and sign it after submitting it online. The CSC Online Application System for Study in China is available at http://laihua.csc.edu.cn
Note:When you fill in the online application,
Agency No. of DUT is 10141

Item 5. b) "Subject or Field of Study in China", please fill in the majors or subjects which are listed in the DUT Master/Doctor Degree Programs.
---
2. Highest Diploma. (notarized photocopy)
If applicants are university students or already employed, they shall also provide studying certificates or employment documents. Documents in languages other than Chinese or English must be attached with notarized translations in Chinese or English.
---
3. Academic Transcript.
Applicants for master's degree shall provide transcripts for bachelor's degree and Applicants for PhD degree shall provide transcripts for master degree. Transcripts in languages other than Chinese or English must be attached with notarized translations in Chinese or English.
---
4. A Study Plan or Research Proposal
Applicants shall submit a study or research plan, with no less than 800 words in English.
---
5.Two Recommendation Letters
The applicants shall provide two recommendation letters by professors or associate professors in Chinese or English By Home University.
---
6. Photocopy of Foreigner Physical Examination Form
The form shall be filled in English
The medical examinations must cover all the items listed in the Foreigner Physical Examination Form. Incomplete records or those without the signature of the attending physician, official stamp of the hospital or a sealed photograph of the applicants are invalid.
---
7. Photocopy of Passport
---
8.If the applicants have the HSK Certificates, please submit the photocopy of the HSK Certificates.
---
9. 6 pictures (3cm*4cm).
---
The above-named documents should be submitted directly to the DUT by the applicants.
After Applying on CSC Apply on Dalian University Web Portal Also:
Applicants must log in Click Here to complete the online application. ② Register the account for the first time use, and log in the online application system with the user name and password after that.
Then Click on Apply Button for CSC Application Form.
You can also use these links for registeration
1. CSC Regisration Portal : Click Here
2. Dalian University Registeration Portal : Click Here
---
Application Deadline: March, 2019
,CSC 2019, Universities under CSC scholarship, dalian university csc, scholarship csc, scholarship dalian university, csc scholarship dut china, cholarships, csc china 2019,csc 2019, master scholarships 2019, PhD scholarships 2019, , , , , , ,