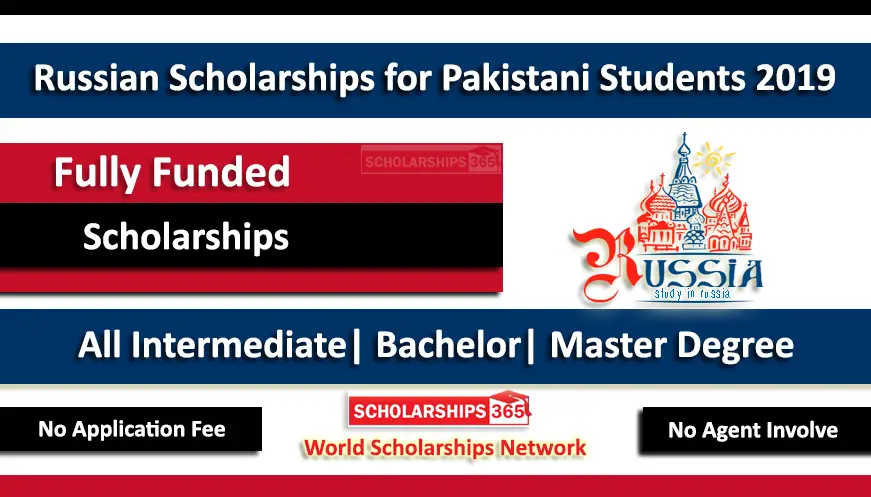 The government of Russia as well as the universities in Russia offers every year large number of international scholarships to the students who are desirous to continue their higher studies in Russia. This Scholarship is for Pakistani Students. Students can apply to any of the Multiple Fields of Study available Under Scholarship in Russia For Pakistani Students.
This Scholarship is Only For Pakistani Students. The Russian scholarships for Pakistani students in 2019 is to Earn an Intermediate, Bachelors, or Masters Degree Russian University. You can select up to 6 Universities of Your own Choice.
Course: Intermediate, Bachelors, or Masters Degree
---
More than 500 universities for chosen. Russian Universities is recognized all over the world. Russia is one of the leaders in Internet and telecommunications computer sciences, financial services, space engineering, and other innovative industries.
---
Field of Study:
As Stated Above All Fields are Available including Medical. You can select any course on Your own Choice. You can Study Your Intermediate, Bachelors, Masters Degree For Free in Russia.
---
Scholarship Value:
Scholarship Covers only Tuition Fees of Respective University Education in Russian Language (Foundation years contains Russian Language Course).
---
Educational Documents to be Uploaded:
Upload Form After Completion. Do Not Forget to Select Russian Center of Science and Culture (RCSC) in Application Form.

Upload Passport ( Passport Should be valid for 18 Months At least)
Upload your CNIC or Bay Form in Compatriot
Upload your Educational Documents (Must be Attested from Respective Authorities)

Intermediate should be attested from Chairman committee

Bachelors and Master Should be attested from HEC and All Educational Documents should be attested from Ministry of Foreign Affairs

Medical Report

Contact to Chugtai Lab in your Area with Code REMB (Show your passport & CNIC for Verification) and give them one photocopy of both documents and take your reports in the Russian Language (in the same Amount)

Upload Russian Version of Report.

In Case of Any Problem with Chughtai Lab contact Madame Samina Cell: 0340-3334951.
---
😇 So You Will Never Miss Any Opportunity for your excellency. Then hurry up to join, follow and like us on different Social Networks. 😇
---
How to Apply:
Sign up and submit an application form online. Go to 

https://russia.study/en. 

Register yourself. Fill Application form Online.

Attach Your Scanned Documents

Choose up to 6 universities and wait till your application is approved
Select Specialty (06 Universities)

02 from Moscow (Max)

02 from Saint Petersburg (Max)

02 from Other cities of Russia
In Case of Any problem or any additional Details Contact Russian Center of Science and Culture (RCSC), Karachi. Phone: 021-3-4548465. Address: 43/4/H, Block 6 Karachi. Timing: Monday to Friday (11 am to 5 pm). Email:[email protected] Facebook: https://www.facebook.com/RCSCPK
---
Application Deadline: 9th March 2019
,russian scholarship, Russian Scholarships for Pakistani Students 2019 Funded, Intermediate Bachelors or Masters Degree Russian University Scholarship, Scholarship opportunities in Russia, Scholarship for Bachelor in Russia, Scholarship for Master Studies in Russia, Scholarship for Intermediate studies in Russia, Scholarship for Pakistani students, , , , , , ,