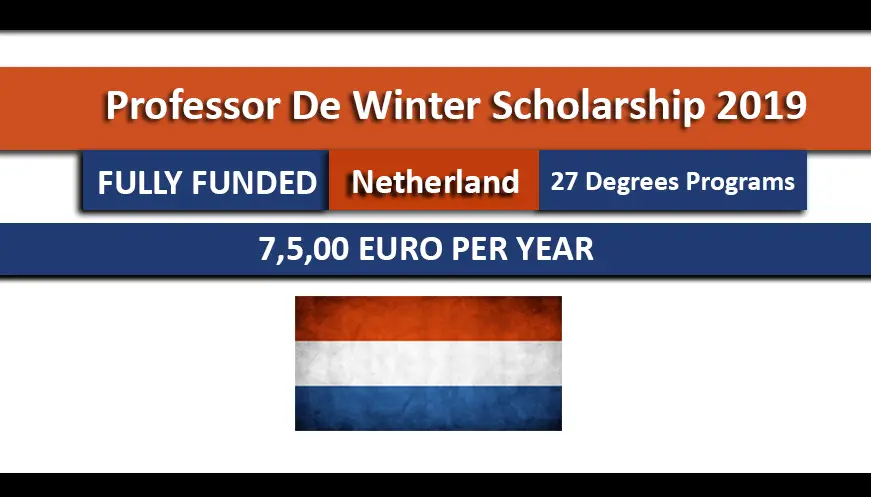 Professor De Winter Scholarship 2019 is excellent Scholarship Program 2019 For Master Program. University of Twente is provided by the inheritors of Professor de Winter and his wife.The Professor de Winter was one of the founders of the research and education department of the Technische Hogeschool Twente – which later became the University of Twente. The University of Twente offers Excellent Scholarships Awards for excellent students from both EU/EEA as well as non-EU/EEA countries. Scholarships is available for a Master's Degree programme at the University of Twente. Scholarships offers funds €  7,500 Per Year. International Students are encourage to apply for this excellent scholarship awards.
Scholarship Award :
The Professor de Winter Scholarship offers:
Scholarship Award : 7,500 for each Year of Master Degree
No of Scholarships : Not Given at this moment.

Have a look at the overview of the estimated costs of living in the Netherlands (excluding tuition fees)

Check Here.
---
Please note: This scholarship is meant as a compensation for study related costs. It is up to the scholarship student to decide how to spend the money.
---
Criteria and Eligibility:
If you have yet to complete your bachelor's programme, you can still apply for admission to a master's programme at the University of Twente. However, you must submit your bachelor's degree before you can start the master's programme.
Application for an UT scholarship is a procedure separate from the application for course entry at the University of Twente. Regardless of funding (scholarship), you will need to gain an admission letter first.
You have been (provisionally) admitted to one of the qualifying UT Master programmes starting in the academic year 2019/2020 (September). Please note: After completion of your application, it may take up to 8 weeks before you receive the results.
Proficiency in the English language is a prerequisite. You comply with the general English language test requirement Academic IELTS 6.5 (or TOEFL iBT of 90) and an additional 6.0 (TOEFL iBT 20) on the subscore of speaking skills.
Important Note : This scholarship is only available to excellent female students.
---
😇 So You Will Never Miss Any Opportunity for your excellency. Then hurry up to join, follow and like us on different Social Networks. 😇
---
The students can apply to following fields: ( Click on Program for further Information)
---
Application Documents Required for apply:  
The applicants are required to provide the following application materials during registeration Process.
Most Important : You cannot apply for a Professor de Winter scholarship yourself. You need to be nominated by your faculty, after you have applied for the University of Twente Scholarship (UTS).
---
Create Online Account. Applicants are required to fill in the application form in English
A bachelor's degree certificate or an equivalent qualification certificate (if available)
An official transcript of records or preliminary transcript of records in Dutch or English 

A certified official translation of your bachelor's degree certificate and transcript of records if not in Dutch or English

Official English test score results (IELTS or Toefl IBt)

An additional Higher Degree certificate and transcript and official translation if applicable (if applicable)

An abstract of your final bachelor's project (thesis) 

A valid international passport
Curriculum vitae (CV)

Letter of motivation

Contact information of two references (reference letters are not required)
---
 Application Deadline:
Admission and Scholarships are opening soon. Be Prepare for apply early as possible.
---
In order to apply for this scholarship, you already need to be (provisionally) admitted to one of the qualifying Master programmes.
,Professor De Winter Scholarship 2019,UTS Scholarships 2019, Holland 2019 Scholarship, Holland 2018 Scholarship, Holland MS SCHOLARSHIPS, latest 2019 scholarships, Netherlands scholarships 2019, BS 2019 scholarships, new ms scholarships 2019, funded Netherlands scholarship 2018, , , , , , ,