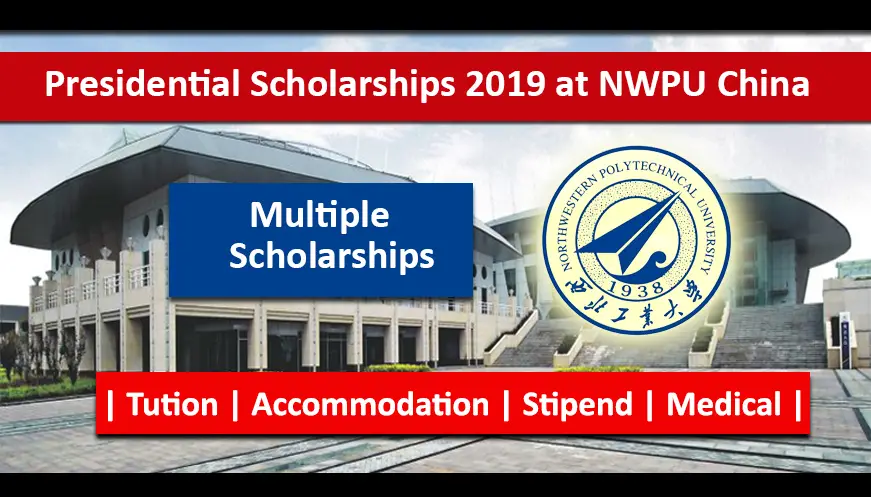 Over more than 70 years, NPU has built an outstanding academic reputation encapsulated in its motto of Loyalty,Integrity,Courage and Perseverance and reflected in its spirit of "Strong Preparation,Diligent Effort,Practical Attitude,and Creative Innovation".
Northwestern Polytechnical University Presidential Scholarship 2019
Scholarship Award:
NPU President Scholarship includes a prize and second prize.

For the first prize winners, tuition, accommodation and insurance fees are waived. In addition, they are entitled to a monthly allowance:

1,500RMB/person/month for bachelor's candidates;

2,000RMB/person/month for master's candidates;

3,500RMB/person/month for PhD candidates.

For the second prize winners, tuition fees are waived.
---
Eligibility Criteria:
A. Bachelor's Candidates:
Citizens of all nationalities are eligible to apply.

All applicants must obey Chinese laws and regulations as well as NPU's rules and regulations, respect Chinese customs, enjoy the knowledge of Chinese culture and adopt a friendly attitude towards China.

All applicants must have a senior high school diploma, over 18 years old but not exceeding 25th.

Citizen should be in good health.

All applicants should have a good academic performance at senior high school. The average grade should not be lower than 80 (one hundred-mark system, scores in other number systems should be converted into percentage.) or above B+/B (on a letter grading system)
English Language Requirements: All applicants, whose native language is not English but apply for majors taught in English, should submit valid IELTS test result of 5.5 or above, or TOFEL result of 75 or above,
B. Master's and Doctor's Candidates
Citizens of all nationalities are eligible to apply.

All applicants must follow Chinese laws and regulations as well as NPU's rules and regulations, respect Chinese customs, enjoy the knowledge of Chinese culture and adopt a friendly attitude towards China.

Master's candidates must have a bachelor's degree and in principle should not exceed 35 years old; Doctor's candidates must have a master's degree, and in principle should not exceed 40 years old.

All applicants should be in good health.

All applicants should have graduated from prestigious universities with excellent academic performance.

All applicants should hold outstanding achievements in their field of work or field of study, or the applicants should show great research potential.

English Language Requirements: All applicants, whose native language is not English but apply for majors taught in English, should submit valid IELTS test result of 5.5 or above, or TOFEL result of 75 or above
---
😇 So You Will Never Miss Any Opportunity for your excellency. Then hurry up to join, follow and like us on different Social Networks. 😇
---
Documents Required to Apply:
Application form for University Scholarship Program
Physical Examination form
Notarized highest diploma
Academic transcripts
Apply for Bachelor's
Recommendation Letter from high school.
Apply for Master and Doctor's?
Recommendation Letter from two professors.
Study plan
Applicants should have good academic marks
Certificate of English/Chinese proficiency
A copy of valid passport
---
How to Apply:
Complete the online application through the link given below http://admission.nwpu.edu.cn/
---
Deadline:
May 15th, 2019
,Presidential Scholarship 2019, China Scholarships, Featured Scholarships, International, PhD International Scholarships for Students, Masters Scholarships, PhD Scholarships, Research Scholarships, Undergraduate Scholarships 2019, Masters Scholarships 2019, PhD Scholarships 2019, Research Scholarships 2019, Undergraduate Scholarships,2019 China, Doctoral Featured Fully Funded, International Masters Northwestern Polytechnical University PhD research, Undergraduate, NPU China Scholarships, NPU Presidential Scholarship 2019, Northwestern Polytechnical University Bachelor Scholarship, Northwestern Polytechnical University Master Scholarship, Northwestern Polytechnical University PhD Scholarship, , , , , , ,