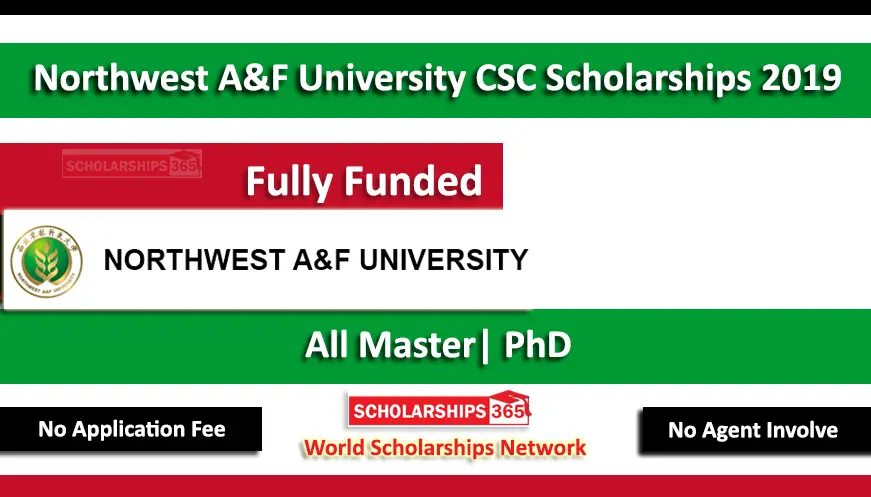 Northwest A&F University is a key national comprehensive university directly under the administration of the Ministry of Education. As one of the leading universities in China, NWAFU is the only education institution in China that is completely equipped with disciplines of agriculture, forestry, and water science. Currently there are all together 23 colleges.
CSC is a full scholarship for designated Chinese universities to recruit outstanding international students for pursuing master degree or Ph.D degree in China. It only supports graduate students to study in China. NWAFU is one of designated universities in China and will directly recruit about 60 international students funded by the program every year.   
Scholarship Value:
Exempt from registration fee, tuition fee, fee for room rent.    

Living stipend and fees for outpatient medical service, comprehensive medical insurance in China will be paid by Chinese Government.

Master degree students, general scholars: CNY 3,000 yuan

Doctoral degree students, senior scholars: CNY 3,500 yuan

The study period of every major will be same, if one whose Chinese proficiency has not met the requirements will be one year's longer for Chinese language learning. 
International travel expenses
International travel expenses will by paid by students themselves
---
Eligibility Criteria:
1. Applicants must be non-Chinese nationals in good health and should not be studying in China.
2. Education background and age limit:
           Applicants for master degree studies must have bachelor's degree and be under the age of 35.
           Applicants for Doctoral degree studies must have master's degree and be under the age of 40.
3. Applicants must have good academic performance and research ability.
4. Applicants has not been funded by any other scholarship.
---
Details of all the study program are given in the link "Click Here"
---
😇 So You Will Never Miss Any Opportunity for your excellency. Then hurry up to join, follow and like us on different Social Networks. 😇
---
Application requirements
1. Online application at http://www.csc.edu.cn/studyinchina/ or http://www.campuschina.org/indexen.aspx and print two application forms  
(Agency Number 10712,Program category: Type B)
2. One acceptance letter from potential supervisor
3. Notarized transcripts of the most advanced study (Chinese or English)
4. Notarized diploma of the most advanced study (Chinese or English)
5.Two letters of recommendation
6. Photocopy of physical examination record
7. Study plan in China(more than 800 words) 
8. Publications (if you have)
9. Certificate of English Proficiency
Notes:1) The faxed and digital application documents are not be accepted
         2)Incomplete documents will be refused to process
         3)The application documents will not returned   
---
Mailing Address:
Office of Adimissions, College of International Education of Northwest A&F University, 3 Taicheng Road, Yangling, Shaanxi, China712100
---
Deadline of Application :
The applicants must submit their application documents to Office of Admissions of International Education of Northwest A&F University before March 1.
,Northwest A and F University CSC 2019, Northwest A and F University, Northwest A and F University CSC Scholarship 2019, Northwest A and F University Chinese Government Scholarship 2019, Chinese Government Scholarship 2019, CSC 2019, Master csc scholarship 2019, PhD CSC scholarship 2019, , , , , , ,