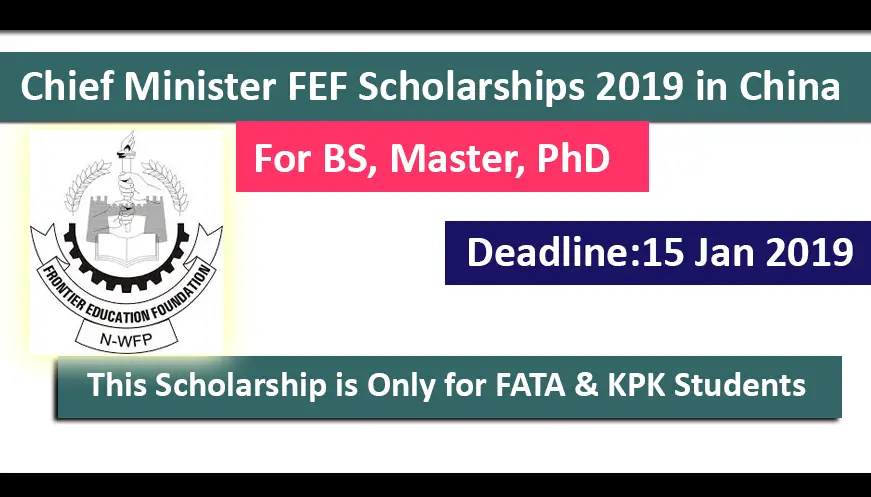 Chief Minister Scholarship is Open for 2019 in China For Doing Bachelors, Masters & Ph.D.The Chief Minister Scholarship also offering 6 Months OR 1 Year to Study Chinese as a Foreign Language. It is a full free Scholarship. Scholarship is available in all fields.
Field of Study:
Engineering,

Information technology,

Telecom,

Networking,

Mathematics,

Physics,

Biology,

Biotechnology,

Bioinformatics,

Microbiology,

Statistics,

operational research,

Management Sciences,

Economics,

Politics,

Psychology,

International Relations.
---
Country of Scholarship: China
---
Who can Apply: THIS SCHOLARSHIP IS ONLY FOR KPK & FATA STUDENTS
---
Eligibility and Criteria:
Applicant should not hold any other Scholarship or Financial Assistance Award.

Qualifications For Ph.D. Program is MS/MPhil Degree attained after 18 Years Education.
Qualifications For MS Program is MSC, BS, BSc 16 Years Education.
Qualifications For BS Program is HSSC or A level.
Age Limit For Ph.D. & MS: The Age Limit for MS & Ph.D. is 40 Years.

Applicant For Ph.D. program also submits a research proposal as er HEC Criteria.

The Alicants will be called for Interview. No TA/DA will be given.

Candidates or Chinese language program should not be enrolled in any academic institution.

50% of the scholarship is reserved for Government Colleges of Khyber-Pakhtunkhwa & 50% are open Merit.

FEF Scholarship form is Available on Frontier Education Website. The Link is www.fef.edu.pk
---
General Instructions for Applying in Scholarship:
The Application Form along with payment order bank draft of Rs 1000 For Chinese Language program & 2000 For BS/MS/Ph.D. program in Favour of Managing Director, Frontier Education & other relevant documents (Domicile, academic certificates, diploma, degree) & a copy of a biometric page of passport & CNIC etc.

All Documents should be attested by government officials not below than rank of BPS 17

Incomplete Application Forms will not be entertained.

The No. of Scholarships for each discipline will be decided by SMS 9Scholarshi Management Committee).
Deadline To Apply:
15th January 2019
😇 So You Will Never Miss Any Opportunity for your excellency. Then hurry up to join, follow and like us on different Social Networks. 😇
---
,China Scholarship, Scholarship 2019, Master Scholarship, BS Scholarship, PhD Scholarship, Master Scholarship in China, BS Scholarship in China, PhD Scholarship in China, FEF Scholarship, Frontier Education Foundation, Chief Minister Scholarship, Chief Minister Scholarship 2019 in China, , , , , , ,