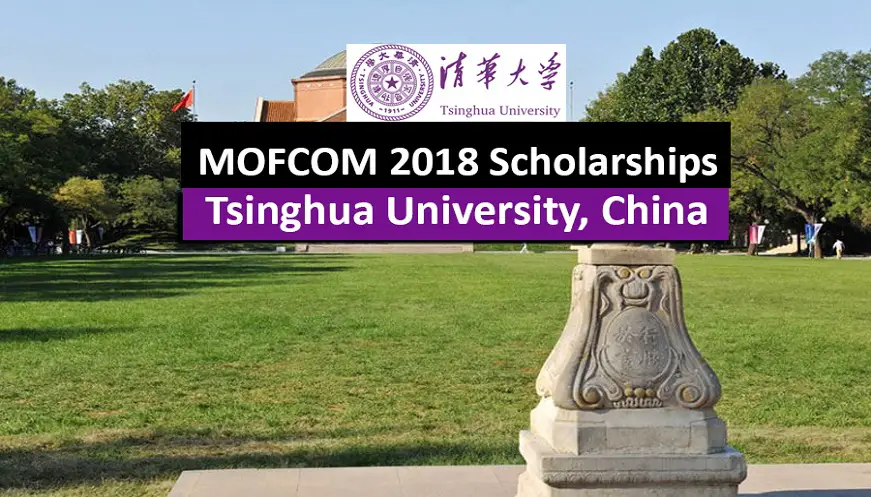 The MOFCOM Scholarships 2018 Degree Program is fully funded for Developing Countries.Its aims especially at training the high-level economic and foreign trading commercial government officials and managerial administrators by utilizing the Chinese government foreign assistance fund.
MOFCOM Scholarships:
The MOFCOM Scholarships is Fully Funded Scholarship for IMPA (International Master of Public Administration) program. IMPA is a one-year English degree program offered by the Tsinghua University, School of Public Policy and Management (SPPM) China.
Tsinghua University:
Tsinghua University is one of the TOP Ranked University in China. Tsinghua is most renowned universities and has become an important institution for fostering talent and scientific research 2018.
Currently university has 20 schools and 57 departments with faculties in science, engineering, humanities, law, medicine, history, philosophy, economics, management, education and art.
The University has now over 40,000 students, including over 15,000 undergraduates and over 27,000 graduate students.
---
Scholarship Award:
Full Funded Scholarship Offer:
One-time round trip air tickets.

Tuition fee.

On-campus accommodation.

Comprehensive medical insurance.

Monthly living allowance 3,000 RMB/month

.

Textbook and material funds

.

Field trip and research funds.

Thesis supervision funds

.

One-time relocation (RMB 3,000).
---
Eligibility for the Scholarship:
Eligible Countries:  All Developing Countries
---
Admission and Entrance Requirements:  
Applicants must meet the following list of requirements to avail scholarship:
Applicants must be a citizen of under developing countries.

Must be in good health.

Educational background and age limit are applied.    

Applicants for master's degree studies must have a bachelor's degree and be under the age of 45.

Government officials from developing countries (at least Division Head and above).

No less than 5-year working experiences

.
---
Host Country: China
---
English Language Proficiency Requirements:
Applicants whose native language is not English are usually required to provide evidence of proficiency in English (English Language Proficiency Certificate is accepted which is issued by Home university) at the higher level required by the home University.
---
Qualification for Scholarship:
Bachelor Degree is required to apply for this scholarship.
---
Course Level:
Scholarships are available to pursue International Master of Public Administration degree program.
---
😇 So You Will Never Miss Any Opportunity for your excellency. Then hurry up to join, follow and like us on different Social Networks. 😇
---
Procedure and Application Documents Required for apply:  
The applicants are required to provide the following application document to apply for scholarship.
---
1.     Application Form for Chinese Government Scholarship
Applicants are required to fill in the application form on the website of China Scholarship Council and have the application form printed and signed.
Application Category:B
Agency Number of Tsinghua University is 10003.  (CSC LINK)
---
2.     Tsinghua University Application
Applicants are required to fill in the application form on-line Application on the website of Tsinghua University.
Apply For Tsinghua Application Click Here
Upload all the required application materials (listed below), submit. No application fee is needed.
---
3.     Highest Diploma.
Applicants for scholarships shall provide bachelor's degree diploma (original or notarized photocopy).
---
4. Academic Transcript.
Applicants for scholarships shall provide bachelor's transcript diploma (original or notarized photocopy).
---
5. A Personal Statement
Provide personal statement  at least 2-page A4 paper (please indicate the motivation for applying for Tsinghua IMPA program, any advantage and accomplishment for fulfilling the program, study plan and career goal). .
---
5.Two Recommendation Letters
The applicants shall provide two recommendation letters as one letter must be from the university, the other must be from current employers.
---
6.English Language Proficiency Certificate
Applicants not from English-speaking countries need to submit English proficiency certificate (TOFEL, IELTS, or English Instruction Certificate). Basically TOFEL: no less than 550, New TOFEL: no less than 75, IELTS: no less than 6.0. If necessary, interview will be arranged.
---
7. Photocopy of Foreigner Physical Examination Form
The form shall be filled in English (Please download form).
The medical examinations must cover all the items listed in the Foreigner Physical Examination Form. Incomplete records or those without the signature of the attending physician, official stamp of the hospital or a sealed photograph of the applicants are invalid.
---
8. Photocopy of Passport
---
9. CSC Application Form
---
10. Embassy Recommendation
Get recommendation from your country's ministry, and submit all the application material to the Economic and Commercial Counsellor's Office, Embassy of the People's Republic of China in your own country and get approved.
After you are approved by the Economic and Commercial Counsellor's Office, scan the official embassy recommendation letter, and send email to [email protected].
Once the university received the embassy official recommendation letter, the academic review will start.
---
  Application Deadline: June 29, 2018
,Tsinghua Scholarships IMPA 2018, Tsinghua University 2018, China Scholarships 2018, MOFCOM Scholarships 2018, , , ,