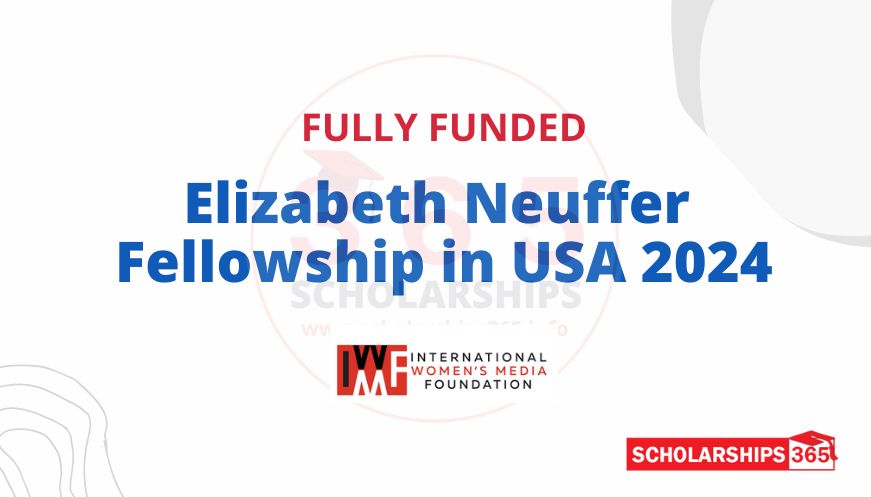 We are pleased to Announce one of the Fully Funded Elizabeth Neuffer Fellowship in USA for the year 2024. This is an exceptional international opportunity for aspiring journalists passionate about human rights and social justice. This international fellowship is designed to offer professional and academic development to individuals seeking to sharpen their reporting skills. The Elizabeth Neuffer International Fellowship offers fellows the chance to work as staff journalists or freelancers in various media platforms, including print, digital, or broadcast media. Women and non-binary journalists from any part of the world are eligible to Apply for this program. Don't hesitate - to apply now and take a step towards advancing your career!
Have you applied for Saudi Arabia Fellowships
Elizabeth Neuffer Fellowship in USA 2024 | Fully Funded
The Elizabeth Neuffer Fellowship in the USA for 2024 offers an exceptional opportunity for enthusiastic individuals seeking to refine their reporting skills on human rights and social justice. Launched three years ago, this international fellowship program provides professional and academic experiences to fellows in print, digital, or broadcast media as staff journalists or freelancers. Applicants of every nationality identifying as women or non-binary with outstanding English communication skills are eligible to apply. Proficiency in the language is critical to maximizing the program's benefits, making it vital to apply as soon as possible if you meet the requirements.
The fellowship program is named in honor of Elizabeth Neuffer, who was a correspondent for The Boston Globe and recipient of the IWMF Courage in Journalism Award in 1998. She lost her life in Iraq while reporting in 2003. IWMF, in collaboration with the Neuffer family and friends, established this program to commemorate her legacy and promote her work in social justice and human rights. Fellows can undertake coursework and research at MIT's renowned Centre for International Studies and obtain practical work experience at The Boston Globe and The New York Times.
---
Have you applied for US Government Scholarships
---
The fully-funded international fellowships in USA aim to empower women journalists to accelerate change in the global news media. The program's advanced structure allows fellows to pursue academic research and hone their skills in the demanding field of journalism. Former fellows have had the opportunity to publish their work in various media outlets, providing them with recognition and exposure worldwide.
Elizabeth Neuffer was a fearless reporter for The Globe who was determined to break down barriers to injustice wherever she found them. She was an inspiration to all journalists, especially women journalists, and the IWMF strives to carry on her tradition by providing opportunities for individuals to fulfill the reporting goals of the media. If you are committed to reporting on human rights and social justice issues and have practical solutions, this program will transform your career.
Have you read it? Fully Funded  Best Scholarships without IELTS
---
Host Country: United States of America
---
Research Center:  You can avail the opportunity to work Centre for International Studies, MIT. Moreover, the candidate can also avail the opportunity to get practical work experience at The Boston Globe and The New York Times.
---
Fellowship Offered: Funded by International Women's Media Foundation (IWMF).
---
Duration of Neuffer Fellowship Program Duration: This fellowship in the USA will complete in 7 months
---
Financial Coverage: Fully Funded
---
You can also apply for the following opportunities:
 UK Scholarship 2023,  Canada Scholarship 2023, Or Australia Scholarship 2023
😇 So You Will Never Miss Any Opportunity for your excellency. Then hurry up to join, follow and like us on different Social Networks. 😇
---
What are the Benefits of the Elizabeth Neuffer Fellowship in US?
There is a chance to spend your 7 months in the USA, at MIT, Boston Globe, and The New York Times. During this period, the fellowship will offer the following benefits to support you financially in the USA to complete your fellowship program.
Expenses that will cover by Elizabeth Neuffer Fellowship:
    The organization will provide enough monthly stipends to cover your living expense in USA.

    Housing / Accommodation support will provide in Cambridge and New York City.

    You don't need to worry about your travel expenses, as Round trip economy airfare is offered in this fellowship.

    You will also receive funds to cover the transportation between the the cities in USA.

    Medical / Health insurance is also included.

    US Visa also granted to the selected applicant

    Additional incidental expenses, also offer.
---
Have you applied for Top 40 Europe Scholarships
---
What is the Eligibility Criteria for

Elizabeth Neuffer Fellowship 2024 in USA?
You need to fill in the eligibility requirement of the Elizabeth Neuffer International Fellowships 2024 In order to qualify for a scholarship. The main requirements are given below:
Journalists of any media can apply

Women, non-binary, and gender non-conforming journalists are encouraged to apply

The focus should be on human rights and social justice issues

Must have at least three years of professional experience

Excellent English communication skills are required
What Documents are Required for Elizabeth Neuffer Fellowship?
Brief biography that provides an overview of your professional accomplishments

Resume or CV

detailing your educational and professional background

Statement of Interest that explains your motivation for applying to the program and what you hope to gain from it

Fellowship goals outlining what you hope to achieve during the program

Two work samples showcasing your expertise in journalism or related fields

Two

letters of recommendation

from professional contacts

Completed application form

Motivation letter highlighting your interest in the conference and why you believe attending would be valuable

A comprehensive CV that includes personal information and experience related to energy-related topics

Two English language journalistic work samples that demonstrate your writing ability and experience covering energy-related topics
---
What is the Last Deadline for Elizabeth Neuffer Fellowship 2024?
All applicants need to complete the Elizabeth Neuffer Fellowship Application Form by April 23, 2023 and submit it.
---
How to Apply for Elizabeth Neuffer Fellowship

?
To apply for the fellowship, students must use the

online application system

.

Register to start the fellowship application process.

Be sure to provide all the necessary information as part of your application.

Take your time to complete the application form accurately and thoroughly before submitting it.
,Elizabeth Neuffer Fellowship in USA 2024 | Fully Funded, Leadership Development Fellowship, Fully Funded Fellowship, Journalism Fellowship, Women in Journalism, Human Rights Fellowship, Social Justice Fellowship, Conflict Reporting Fellowship