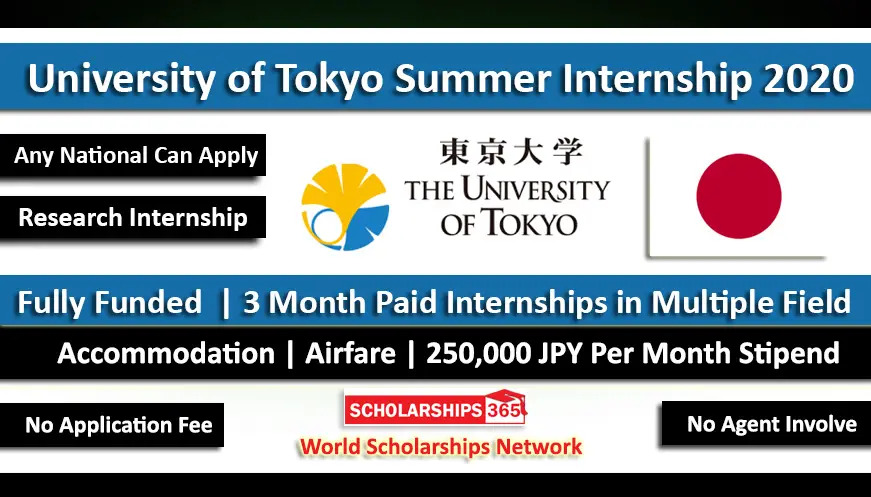 University of Tokyo, Japan Summer Internship Program 2020 for International students invites the young talented students from different part of the world. University of Tokyo Amgen Scholars Program 2020 offering fully funded International Internships which will cover all the cost during the stay in Japan.
Utokyo Summer Internship offering fully funded internships to world wide Currently Enrolled Undergraduate to join their Summer Research Based program in a wide range of Sciences, Medicine, Agricultural, Agricultural and Life Sciences, Engineering and Pharmaceutical Sciences.
The main aim of the internship is to invites undergraduates from different world universities under UTokyo Amgen Scholars Program and provide outstanding opportunities that will enhance the fundamental structure of the universe. Every Years Hundreds of participants got selected and become the Part of the UTokyo Amgen Scholars Program.
---
Host Country : Japan
---
Research Center: University of Tokyo, Japan
---
Fellowship Offered By: Funded by University of Tokyo, Japan, Kyoto University and Government Research Centers.
---
Financial Coverage: Fully Funded
---
Degree Level: BS Students can Apply.
---
You can also Apply for following opportunities in Japan.
---
😇 So You Will Never Miss Any Opportunity for your excellency. Then hurry up to join, follow and like us on different Social Networks. 😇
---
UTokyo Amgen Scholars Program 2020 Offers:
The Amgen Scholars offers excellent Opportunities for International students to become the part of scientific research projects at many of the world's leading institutions every year. Students who have dream to do a Research at Japan Research Centers will become Participant in Research Work on multiple research areas.
UTokyo Summer Paid Internship 2020 (UTokyo Amgen Scholars Program 2020) will cover all the expenses during stay and research work in Japan include AirTicket.
Exepnses which will cover by this program:
A Monthly Stipend of 250,000 JPY will be given.
Economy Class Round Airfare (Air Tickets) to and from Japan.
Free Accommodation will also be offered to selected participants near the university campus

.
Addition Benefits of Internships:
Visits to International Research Graduate Schools and Institutes.

Information sessions also provided for how to apply to Graduate Schools at Unversity of Tokyo.

Special seminars and luncheons where students can meet and have discussions.

Access to UTokyo campus facilities such as the Library, Health Care Center and Gymnasium.

Japanese cultural events.

Excursions.
---
You can also Apply for following opportunities in China:
---
UTokyo Amgen Scholars Program Internship Fields - (Participating Area, Major):
Students have to check the following given schools for offering internships. Internships in multiple fields are offered by different departments professors to International Students.
Graduate School of Science

Graduate School of Engineering

Institute of Industrial Science

Graduate School of Medicine

Graduate School of Agricultural and Life Sciences

Graduate School of Pharmaceutical Sciences
---
Eligibility Criteria:
UTokyo Amgen Scholars Program applicants must be undergraduate students who meet the following requirements:
Eligible Countries:

Students from any nationality are elibile to Apply.

Student must be enrolled in Colleges or Universities from any part of World that award a Bachelor's Degree (or its equivalent).

Applicant must be Undergraduate Student.

At the minimum, have completed their First Year of Undergraduate study at the time the summer program begins.

Student not graduating before the summer program begins, and after the summer program ends will resume undergraduate studies for at least 1 semester or 1 quarter.

A letter of English Proficiency Certificate will be accepted which will specifying that you are taking your your bachelors education in English which is issued by your home university.
Other Requirements:
To devote full effort in participation in the Amgen Scholars Program.

In addition, all participants must be able to attend the program for its entire duration.
To live in the accommodation provided by UTokyo.
To participate fully in the day-to-day life of the research group, respect the work of all members of the laboratory, and attend and participate in laboratory meetings or other gatherings.
To attend the orientation on June 9, all required conferences, activities and social events.

To give a presentation describing his/her summer internship research project.
---
You can also Apply for following opportunities in Saudi Arabia:
---
Required Documents for Apply:
Portrait Photo

Scanned copy of Passport or ID card

Resume/CV and Cover letter

Academic Transcript

Questionnaire

Proof of your English Proficiency Certificate from your home university.

Two Recommendation Letters. (

Students Must Check Instructions

).
---
How to Apply for UTokyo Amgen Scholars Program:
Students have to apply online for this internship program.

(Student have to Click on Apply Online Button to Fill the Application Form ).
For Official Advertisement Please Visit: Official Source Given Below.
---
Important Dates:
November 1, 2019: 2020 Program Online Application Open

Mid-March, 2020: Applicants Notified of Decision

June 8, 2020: Participants must have arrived in Tokyo by this date

June 9, 2020: UTokyo Amgen Scholars Program 2020 starts

August 3, 2020: Internship Program Ends
---
Deadline: All applications should apply before the 3rd Feb, 2020.
---
,Fully Funded Summer Internships 2020-2021-2022, Fully Funded research Internships 2020-2021-2022, Fully Funded Summer fellowships 2020-2021-2022, free Study in japan, fully funded internships in japan ms and phd, Undergraduate, Master & PhD., Opportunities in japan, UNDERGRADUATE SCHOLARSHIPS 2020-2021-2022-2023