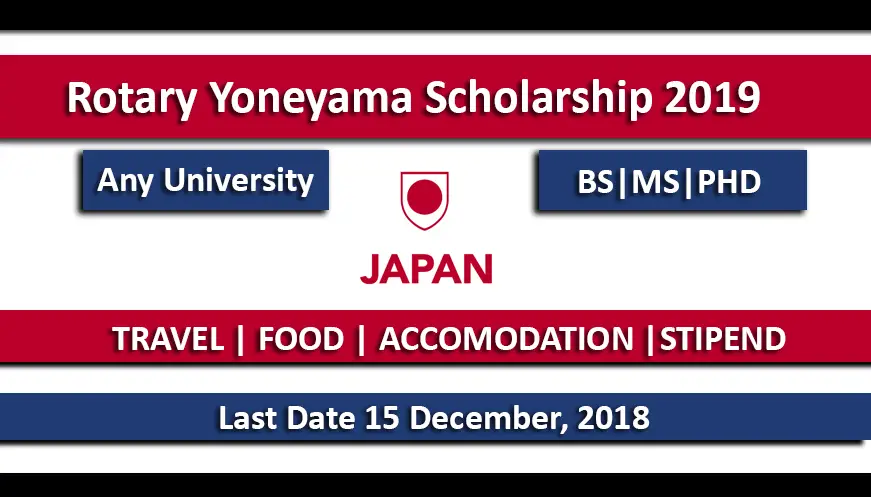 Rotary Yoneyama Scholarship for applicants residing abroad is for overseas students scheduled to enroll in a Japanese university / graduate school. All Rotary International District in Japan will open for 2019 enrollment.
A group of schools have been designated to participate in the scholarship program. Each may recruit, screen and nominate candidates for scholarships. Their nominations are forwarded to the Rotary Selection Committee for  final review and decision, which will be within the school's Rotary District. The selection process, therefore, is two-tiered: the first stage is conducted by the schools and the second stage, by the Rotary Selection Committee.
The scholarship supports excellent students from other countries who are studying or doing research at Japanese institutions of higher learning.
---
Country: Japan
---
Level of Study: BS,MS and PhD
---
Eligible Regions: International students can apply
---
Scholarship Award:
Rotary yoneyama scholarship offers:
The monthly stipend for undergraduates is 100,000 yen per month.
The monthly stipend for Master and doctoral scholars is 140,000 yen per month.

A single economic one-way-airfare-to-Japan is reimbursed at orientation but it cannot be more than 400,000 JPY.
---
Eligibility and Criteria:
The applicants must not be Japanese citizens or residents.

The entrant must be born after April 1st, 1979.

Applicants are expected to have a Japanese-Language Proficiency Test with JPLT N4 level or above.

Applicants who were awarded Yoneyama scholarships previously or any other scholarship from another organization, are not eligible.

All applicants are expected to have an enthusiasm for study and clear-cut future goal, an awareness and respect for cultural differences, the ability to express oneself fluently and to communicate smoothly, and both mental and physical health in good condition.
---
😇 So You Will Never Miss Any Opportunity for your excellency. Then hurry up to join, follow and like us on different Social Networks. 😇
---
How To Apply:
Download the guild-lines provided on the official website.

Application documents should be sent by email to the foundation.
apply @ rotary-yoneyama . or . jp (remove the spaces)
---
Deadline: The application deadline is December 15, 2018
,Rotary Yoneyama, Rotary Yoneyama Scholarship 2019, Rotary Yoneyama Scholarship 2018, Japan Scholarship 2019 2020, Scholarship in Japan for Pakistani, Fully Funded Rotary Yoneyama Scholarships, Fully Funded Japan Scholarships, Scholarships 2019 2020, japan university Scholarships, phd 2019 scholarships, new ms scholarships 2019, latest 2019 scholarships, Japan MS Scholarship, Japan PhD scholarships, Bs scholarship, bachelor scholarship 2019, , , , , , ,