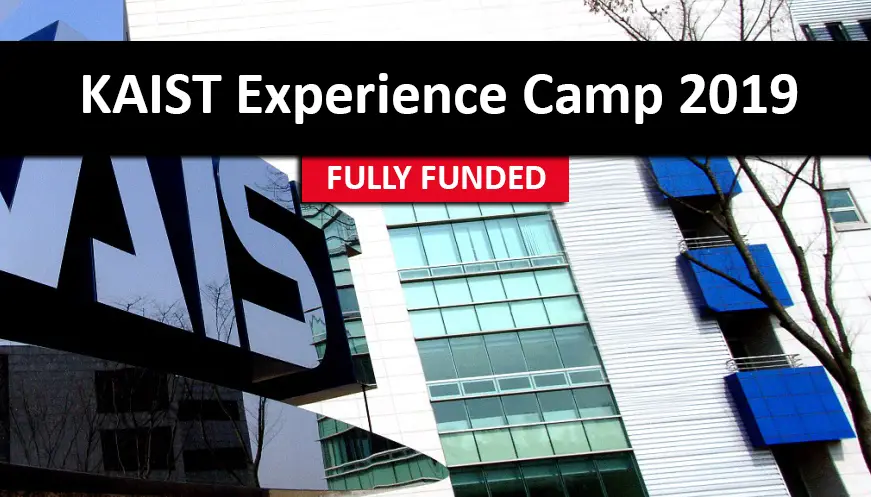 The Biggest Event 2019 International Experience KAIST South Korea University Camp is now accepting International application. KAIST Exprience South Korea Camp 2019 is fully funded program for international students.
KAIST University South Korea at one of the Top University of the World. International Applicants are invited from all ASIAN Countries to become part of the Leading KAIST Experince 2019 Camp.
Host University: KAIST University South Korea
---
Host Country: South Korea
---
Eligible Countries:  All ASIAN Countries.
---
😇 So You Will Never Miss Any Opportunity for your excellency. Then hurry up to join, follow and like us on different Social Networks. 😇
---
KAIST Camp Offers:
Round Trip Airfare Tickets

Accommodation.

Meals

Local Excursions.

No registration or participation fee

.

Extracurricular activities.
---
Application Requirements:
Students of 3rd or 4rth Year University or College.

Majoring in Computer Science or in other related areas.

No passport required at the time of application.

No ielts or toefl required.
---
Experience KAIST Schedule: Program Start from January 8, 2019 to January 11, 2019
DAY1 1/8(TUE)
  9:00-10:00     Opening Remark & Program Overview

10:00-10:30     Overview of KAIST

10:30-11:30     Overview of School of Computing at KAIST

11:30-12:00     Coffee Break,

12:00-13:00     Lunch (On Campus)

13:00-13:30     Team formation

13:30-15:30     Introduction of Research Groups & Project Overview

15:30-18:00     Team discussions

18:00-18:30     Dinner & Social Nighte.
DAY2 1/9(WED)
  9:00-11:30     Meeting with Faculty Members and Graduate Students

11:30-12:30     Lunch (Off Campus)

12:30-15:00     Invited Talks (by KAIST faculty members)

15:00-18:00     Preparation for Team Presentation

18:00-18:30     Dinner (On campus)
DAY3 1/10(THU)
 9:00-11:30     Team Presentation

11:30-12:30     Lunch

12:30-15:00     Invited Talks (by KAIST faculty members)

15:00-17:00     KAIST Campus Tour

17:00-17:30     Award Ceremony & Coffee Break
DAY4 1/11(FRI)
09:00-18:00     HCI Workshop (Optional)
---
Application Procedure to apply:
Fill the Online form step by step Properly. ( For Apply Click on Apply Online ) 
---
Application Deadlines:
30th September 2018 for 2019 International KAIST Camp South Korea
,KAIST Experience Camp 2019, Experience Camp 2019, KAIST 2019, Summer Camp, Summer School 2019, Exchange Programs 2019, KAIST South Korea 2019 Experience Camp, Conference 2019, , , , , , ,